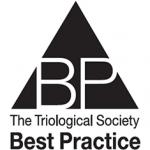 TRIO Best Practice articles are brief, structured reviews designed to provide the busy clinician with a handy outline and reference for day-to-day clinical decision making. The ENTtoday summaries below include the Background and Best Practice sections of the original article. To view the complete Laryngoscope articles free of charge, visit Laryngoscope.
Background
Chronic rhinosinusitis (CRS) is associated with high economic burden and poor quality of life, and affects up to 15% of the population worldwide. Saline irrigation, intranasal corticosteroids , and endoscopic sinus surgery have been established as the mainstays of treatment. Due to the chronic nature of the disease, many CRS patients will resort to trying complementary and alternative medicine to manage their symptoms. 
Acupuncture is a key component of traditional Chinese medicine that is theorized to affect the nervous system and autonomic regulation. It is used for various medical conditions, including migraines and arthritis. The effectiveness and the role of acupuncture in the clinical management of CRS remains unclear. This review summarizes the current literature surrounding the use of acupuncture in CRS.
Best Practice
Although acupuncture is used to treat a variety of medical conditions, there is insufficient evidence to support its use in CRS; therefore, the authors cannot currently recommend the use of acupuncture in CRS. The existing literature is limited by small sample sizes, lack of standardization in acupuncture techniques, and poorly defined CRS diagnostic criteria. Although it appears useful as an adjunct to conventional therapy, the limited data from published studies have not shown any conclusive advantage over conventional medical therapies. Further research comparing acupuncture to existing conventional treatments, which include control groups and validated outcome measures, is warranted to assess its clinical utility.