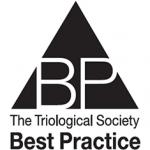 TRIO Best Practice articles are brief, structured reviews designed to provide the busy clinician with a handy outline and reference for day-to-day clinical decision making. The ENTtoday summaries below include the Background and Best Practice sections of the original article. To view the complete Laryngoscope articles free of charge, visit Laryngoscope.
Background
Paragangliomas are rare neural crest-derived tumors associated with ganglia of the autonomic nervous system. Within the head and neck, these neoplasms commonly arise from parasympathetic ganglia and present as carotid body, tympanic, jugular foramen, and vagal tumors. Nearly all germline mutations that lead to hereditary head and neck paragangliomas are attributable to the mutations in the genes associated with the succinate dehydrogenase (SDH) enzyme. Mutations in each subunit of SDH have unique phenotypic features
and are characterized by a distinct paraganglioma syndrome (PGL). Despite the known association with heritable germline mutations and PGL, the role of genetic testing is not well integrated into the practice of many head and neck surgeons. The aim of this article is to define the best practice for incorporating genetic testing into the management of head and neck paragangliomas based on presenting symptoms, pathologic features, familial risk, and cost considerations.
Best Practice
All individuals presenting with an extratympanic paraganglioma of the head and neck should undergo genetic testing. Even sporadic appearing tumors, presenting as a single tumor at an advanced age, can be associated with an underlying SDH mutation that contributes to the tumorigenesis. Initial genetic screening should be determined by risk factors associated with each mutation, which obviates unnecessary testing expenses. An equally important consideration for all clinicians is to offer genetic counseling to provide guidance, support, and insight on clinical features of the disease that has hereditary implications (Laryngoscope. 2019;129:1491–1493).