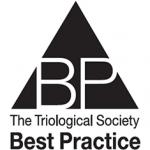 TRIO Best Practice articles are brief, structured reviews designed to provide the busy clinician with a handy outline and reference for day-to-day clinical decision making. The ENTtoday summaries below include the Background and Best Practice sections of the original article. To view the complete Laryngoscope articles free of charge, visit Laryngoscope.
Background
Cutaneous squamous cell carcinoma (cSCC) is the second most common skin cancer. When compared to mucosal SCC, cSCC rarely metastasizes, with reported rates of regional metastasis varying from 0.5 to 10%. Lymph node metastasis upstages the disease and adversely affects prognosis. Elective treatment of the first echelon of lymph nodes may be a reasonable approach in high-risk patients. However, there is no uniformity or consensus on the effective management of the N zero nodal basin in cSCC.
Best Practice
The majority of metastasis with head and neck cSCC occur in the parotid as the first echelon of lymph node metastasis and the neck. Surgical treatment of cSCC should involve excision with wide surgical margins. Parotidectomy (superficial or total) with neck dissection should be considered in all patients with intraparotid and neck nodal metastasis. Elective treatment of the parotid and neck is controversial. The National Comprehensive Cancer Network (NCCN) does not explicitly recommend definite guidelines for elective treatment of regional nodal basins. However, it is prudent to consider superficial parotidectomy with elective neck dissection in high-risk patients. The rates of metastasis are highest among patients with poorly differentiated tumors, PNI, thickness > 6 mm, immunosuppressed patients, recurrent tumors, and those located on high-risk areas such as the temple and ear. SLN biopsy is an exciting approach to the regional management of high-risk cSCC; however, additional prospective studies are needed before it can be recommended as standard of care (Laryngoscope. 2019;129:535–536).