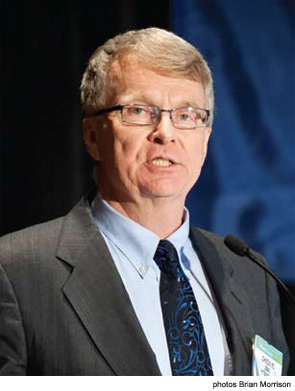 Jonas Johnson, MD.
CHICAGO — Chemoradiation therapy (CRT) for head and neck cancer is overused at some centers in patients with early-stage laryngeal cancer, and more care should be taken not to overtreat patients with therapy that can have toxic effects, said invited lecturer Jonas Johnson, MD, at the Annual Meeting of the Triological Society, held here on April 29 as part of the Combined Otolaryngology Spring Meetings.
There has been such a rush to use the therapy that Dr. Johnson, professor and chair of otolaryngology at the University of Pittsburgh School of Medicine, called the last decade "the era of chemoradiation."
Findings from 1991's landmark Department of Veterans Affairs Laryngeal Cancer Study Group (N Engl J Med. 324(24):1685-1690) showed that it is possible in patients with limited laryngeal cancer to save 60 percent of the organs without surgery using CRT, but such findings may have given rise to excessive use, Dr. Johnson said.
"There's a great tendency among doctors to generalize," Dr. Johnson said. "I think perhaps it's because they don't always read the fine print. In some centers, I find, (they) are offering CRT to most patients with head and neck cancer. That's wrong. Chemoradiation is too much therapy for early-stage disease. And, quite frankly, … T4 tumors were largely excluded in the big prospective randomized trials. You understand that when an investigator puts together a trial he tries not to hurt people…. They figured it wouldn't work. And by the way, it doesn't."
Toxicities
Dr. Johnson said he does believe that CRT should be the standard of care in T3 laryngeal cancer. But he pointed to a review of the data in three major radiation therapy oncology group trials on chemoradiation (J Clin Oncol. 2008;26(21):3582-3589), which found that in the 230 assessable patients out of the 479 in the trial, "severe toxicities" were found in 43 percent of them.
"So what that means is that in this exuberant chase to preserve function, we're failing," Dr. Johnson said. "We fail because some patients are not cured. But we also fail because this treatment is in fact very toxic. It's true that a great deal of effort is being made to find ways to avoid or prevent these toxicities, (but) they remain an issue."
In early laryngeal cancer cases with T1 and T2 lesions, he said, "we need to avoid overtreatment." Dr. Johnson said such patients don't need two treatment modalities. "Either take it out or you irradiate it," he said. "And maybe you can give it chemo…. Cancer control is excellent. These patients do great. They have good voice, they swallow well, and they rarely have excessive toxicity from treatment."