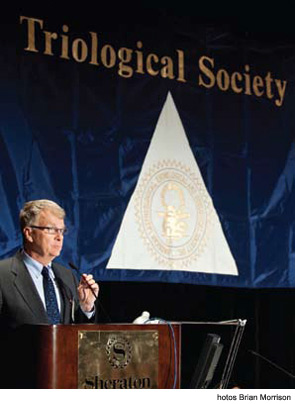 Dr. Johnson said data on using chemoradiation in patients with T1 and T2 disease are "interesting but not convincing, in my mind."
The Case for Chemo
Dr. Johnson said data on using CRT in patients with T1 and T2 disease are "interesting but not convincing, in my mind."
In a study of results for 519 patients by the University of Florida's William Mendenhall, MD, in 2001, which Dr. Johnson said is still the best available data on the subject, T1 cancer cases had a 98 percent ultimate control rate with irradiation, and T2 cases had a 96 percent control rate (J Clin Oncol. 2001;19(20):4029-4036).
But only 82 percent of T2a cases and 76 percent of T2b cases preserved their larynxes after five years, Dr. Johnson noted.
"It means something between 18 and 24 percent of the larynxes were taken out … to get to this ultimate control rate," Dr. Johnson said. "If you have a T2 patient, and you're going to send them for irradiation, he'd better understand that there is some significant chance he will end up with a laryngectomy."
Settling on a therapy for T2 laryngeal cancer is "a tough one," he said. "Do you want to have a procedure that will probably leave you with anterior web and some changes in your voice and almost certain tumor control, or would you rather take a chance and go with irradiation?" he said.
Dr. Johnson discussed data from Pittsburgh showing how cancer recurrence was related to the number of nodes. Patients with four or five nodes were at great risk, although cancer can recur even with none at all.
"So the question remains: How many nodes represents indication for adjuvant therapy?" he said. "In Pittsburgh, I can tell you, we use three or more. I know others use other numbers. Here's the problem: How much risk are you willing to accept before you add irradiation and chemotherapy? And, of course, when you add therapy you add toxicity."
Decreased Survival Rates
The difficulties with laryngeal cancer are highlighted in stark fashion by the data from the Surveillance, Epidemiology, and End Results (SEER) database.
"Of the 24 cancers that are monitored by the SEER database, the only cancer group to experience a decline in cure is those with laryngeal cancer," Dr. Johnson said. "So what's wrong? How does that happen? Well, ladies and gentlemen, our therapies are not very effective. We're uncertain about which therapy is best. And the toxicities of our treatment are not always acceptable. Pretty straightforward."