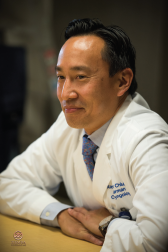 November is a special time of year for the country. Much of the talk around the country centers around the mid-term elections and in our cover story this month, we dig into what issues influence the votes of physicians and otolaryngologists; truly interesting stuff and great topic for conversation at the dinner table. But for the sake of this public forum, I won't talk any more politics. A 2017 survey by the American Psychological Association found that 26% of workers felt political debates at work left them feeling tense or stressed and 40 % found that the divisive, distracting environment caused a negative outcome as evidenced by reduced productivity or poorer work quality (Published May 2017).
What I would rather talk about is a subject that is nuanced in a way that is poorly understood by most but has a large
impact on the work satisfaction of many. How do people climb the ladder of society leadership? And even though this month's story is slanted toward academic societies, the lessons we learn can be applied to all facets of our work and even private life. How can I fast-track to partnership? Who decides whether or not I get on the school board? I want to be involved with hospital leadership but don't know where to start. How do I become the next president of the Triological Society?
| | |

Next →

|
Single Page