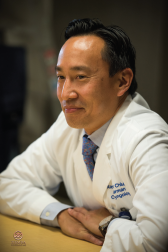 Jim Collins's book Good to Great is a must-read leadership book (HarperCollins Publishers, 2001) that profiles companies that have enjoyed sustained success for at least 15 years, recognizing some of the most influential in the business world. The research team led by Collins identified uniform attributes leveraged by these great companies: a culture of excellence, exceptional financial performance compared to their peers, a clear vision and mission in which no one person, including their leaders, was greater than the whole. As we all well know, hospitals are mostly run by business people. And as far as business and hospitals go, the mantra that people come and go, but institutions endure, is often used and applied to personnel decisions. Rules and policies are made to ensure patient safety and to be compliant with federal and state regulations. Exceptions to the rule are rare, which is understandable since it is difficult to make exceptions when transparency is also a cultural mission of many organizations.
Although medicine is a business, there are many aspects that make us different from a manufacturing or tech company. Our ability to offer great healthcare hinges on our constantly learning and teaching how to best take care of patients. Being an effective teacher is hard, often thankless, and, even in academics, mastered by few. But those institutions and specialties that have great teachers make the jump from good to great. They often embody the soul and culture of the organization, and their impact on those who followed their lessons shape the institution for generations to come.
People come and go. Institutions endure. —Anonymous hospital administratorleader and having an organization focus on the competency of those who are in leadership positions is critical as we hope to not only survive but thrive in the face of the burnout epidemic.
This past year, otolaryngology lost a trio of its greatest teachers. Michael Glasscock, MD, helped shape the field of otology and neurotology. Bobby Alford, MD, was a legendary administrator, researcher, surgeon and educator and shaped countless otolaryngologists, both in academia and in private practice. And just last month, Professor Heinz Stammberger, MD, passed away. This one was the most personal to me, as I had the privilege of knowing Prof. Stammberger. He was the department chair of otolaryngology at the Medical University of Graz in Austria. Along with David Kennedy, MD, Prof. Stammberger introduced, innovated, evolved and taught endoscopic sinus and skull base surgery around the world. Every patient and physician who ever benefitted from endoscopic sinus surgery is indebted to this man. For over 30 years, Prof. Stammberger traveled the world, giving countless lectures to providers, residents, and students, teaching them the finer points of sinus surgery. If you ever saw Prof. Stammberger perform a cadaver prosection for endoscopic sinus surgery, you will understand when I say it was must-see entertainment. The cultured accent, the wry humor, the utmost mastery of the anatomy, and the occasional cuss word in German would all come out in a 90-minute talk that felt like 10 minutes had passed. No matter how many times I saw him do a prosection, I would always leave with one or two new tidbits that I would then pass on to my colleagues and learners. "Uncap the egg" was his way to describe the importance of removing the agger nasi for frontal recess surgery and, to this day, it is still heard in my operating room.
Writing this article has made me reflect on all the great teachers I have had and how I still use many of their phrases in my own teachings. I still hear the voice of my fellowship teacher Winston Vaughan, MD, in my head when I say "tap, tap" to my residents who are using a microdebrider near the orbit or skull base. Dr. Kennedy's voice is heard when I tell my patients that their nasal polyps will burn out if I can get their sinus mucosa to normalize for at least six months after sinus surgery. And Bert O'Malley, MD's teachings are channeled directly to my fellows and residents when we talk about whether or not to do an orbital exenteration for a patient with a sinonasal malignancy.
I fondly remember the lectures and lecturers who taught me valuable skills and knowledge that I still use today. Ashok Shaha, MD, is a head and neck surgeon that I have never had the pleasure of personally meeting. But, from his lecture on thyroid disease, I gained an appreciation for how well humility and self-deprecating humor can engage an audience. I marvel at how rhinologist and outcomes researcher Tim Smith, MD, engages an audience using technology and gets everyone to participate in a lecture on data-driven research that may be difficult for some to understand. Back in 2004, I learned from otologist Jennifer Derebery, MD, the importance of a support network for work-life balance, well before talking about burnout became into vogue. I continue to reflect on the lessons I learned from pediatric otolaryngologist Dana Thompson, MD, on how telling a personal story can help others relate to the point you're trying to get across. Otologist Dennis Poe, MD, PhD, is a tireless educator in the mold of Prof. Stammberger, using multiple techniques and lines of reasoning at the podium and during cadaver lab to help learners understand Eustachian tube function. And the ability of facial plastic and reconstructive surgeons Stephen Park, MD, and Rick Hayden, MD, to weave a patient's story with pictures of their defect is masterful in helping us understand the decision-making process when designing a facial reconstructive flap. These are just a few examples of the great teachers we have in otolaryngology. They influence our lives and, by extension, the lives of our patients, our learners and their present and future patients.
Drs. Glasscock, Alford and Stammberger will be sorely missed. But their teachings will live on, and their impact will be far greater than they could ever know. Great teachers make great institutions and specialties, and we are fortunate to have many in otolaryngology.
On behalf of our editorial board, I'd like to wish everyone a happy new year! We look forward to connecting with you again soon.   
—Alex
In Memoriam
Bobby Alford, MD
1932–2018