Once the province of neurosurgeons, cerebrospinal fluid (CSF) leak repair is now handled mostly by otolaryngologists. This change has occurred over the past couple of decades, during which time the evolution of endoscopic tools and techniques has made possible extracranial rather than intracranial repair. The success rate for repairing these leaks from below has reached about 90 percent, particularly for small leaks (Laryngoscope. 1996;106:1119-1125).
But despite the high success rate for the repair of leaks from small skull base defects, several challenges remain, otolaryngologists say. Among these are leaks that result from larger defects caused by endoscopic intracranial work.
"Reprinted with permission of Wiley-Blackwell, Inc."
Laryngoscope. 2004;114:255-265. Copyright 2004 the American Laryngological. Rhinological and Otological Society, Inc.
A common site of injury during functional
endoscopic sinus surgery
is the right lateral lamella (arrow in A) when resecting the right middle turbinate.
"Otolaryngologists must understand the difference between routine cerebrospinal fluid leak repairs of small defects such as those seen after trauma, as opposed to large defects seen with endoscopic skull base resections that require extended, multi-layer reconstruction," said Rodney J. Schlosser, MD, professor and director of rhinology and sinus surgery at the Nose and Sinus Center, Medical University of South Carolina in Charleston.
Vascularized Flaps
One advance from the past five years that helps to meet the challenge of repairing CSF leaks from large skull base defects is the use of vascularized flaps, or arterially based flaps, to close the leak, according to Bradley Marple, MD, professor of otolaryngology at University of Texas Southwestern Medical Center at Dallas. Although the practice is not new, he said, the use of the flaps to reconstruct the skull base is.
"Typically, for large CSF leaks, a lumbar drain is placed so that it can decrease the CSF pressure, which in turn decreases the stress placed on the repair site," said Mas Takashima, MD, director of the Baylor Sinus and Allergy Center at Baylor College of Medicine in Houston, Texas. "For extremely large defects encompassing most of the skull base, a nasoseptal flap pedicled off of the sphenopalatine artery can be used to cover the defect and provide a resilient, vascularized flap to repair the hole."
According to David W. Kennedy, MD, professor of otorhinolaryngology at the University of Pennsylvania in Philadelphia, the practice is still evolving, but most centers now use these flaps when the defect is major and is at a site where flap closure is possible. "The evidence suggests that for large defects there is an advantage to using arterially based flaps," he said.
Spontaneous Defects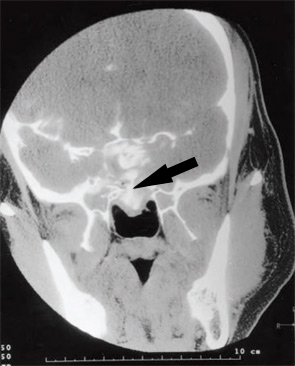 "Reprinted with permission of Wiley-Blackwell, Inc."
Clinical Endocrinoogy. 2000;52L43-49. Copyright 2000
Blackwell Science Ltd.
CT cisternography demonstrating a CSF leak (black arrow).
Spontaneous defects, another type of difficult leak otolaryngologists must distinguish from routine CSF leaks, are often associated with elevated intracranial pressures, according to Dr. Schlosser. These types of leaks, he said, require adjuvant medical therapy to avoid long-term failure.