At the second-stage operation, in all cases with regenerated MACs and in the normal control group, middle ear pressure changed after administration of N20. In contrast, no change was observed in cases with unregenerated MACs. In 70 percent of the regenerated MAC group, ET function was improved, whereas improvement of ET function was observed in only 13 percent of the unregenerated MAC group.
Bottom line: Tissue-engineered regeneration of MACs improves ET function and gas exchange in the middle ear.
Reference: Kanemaru S, Umeda H, Yamashita M, et al. Improvement of Eustachian tube function by tissue-engineered regeneration of mastoid air cells. Laryngoscope. 2013;123:472-476.
—Reviewed by Sue Pondrom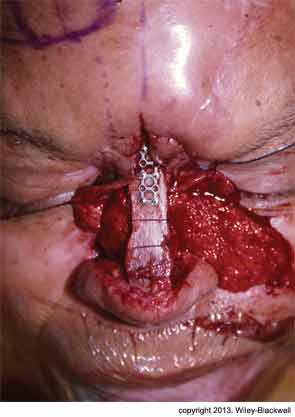 Interpolated melolabial flap raised and inset, suspended from osseocartilaginous rib graft with polydioxanone suture. The patient's second forehead flap is outlined.
Two-Stage Process Repairs Internal Lining in Nasal Deformity
When septal hinge flaps are unavailable, what method can be used to reconstruct large defects of internal lining in a full-thickness nasal deformity?
Background: Full-thickness nasal deformities are a reconstructive challenge and require reconstitution of external skin, internal lining and structural support. Restoration of a reliable internal lining is critical, with septal hinge flaps often used. However, sometimes these and other intranasal mucosal flaps are unavailable.
Study design: Case study.
Setting: Department of Otolaryngology-Head and Neck Surgery, University of Michigan Health System, Ann Arbor.
Synopsis: Surgeons described the use of a two-stage interpolated subcutaneous fat pedicle melolabial flap to reconstruct large defects of internal lining when septal hinge flaps were unavailable. They noted that this technique is particularly useful to salvage patients with full-thickness nasal defects who have already expended their first forehead flap. The patient was a 69-year-old male who had undergone radiation and nasal reconstruction where the pericranial flap failed and the split calvarial bone became exposed and was lost, creating a large fistula. The authors of this study performed a second reconstructive surgery using a 5 x 3-cm two-staged subcutaneous fat pedicle melolabial flap. They noted that the potential drawbacks of the interpolated melolabial flap are that it lacks a true axial vascular pedicle and that it may be hair-bearing in men. However, their patient had no problems with excessive hair growth and, in the four years since this second operation, he has continued to do well.
Bottom line: A two-stage interpolated subcutaneous fat pedicle melolabial flap reconstructed a near-total nasal lining defect in a patient with unavailable septal hinge flaps, offering an alternative to using a forehead flap, and may be an alternative to a free radial forearm flap in select patients.