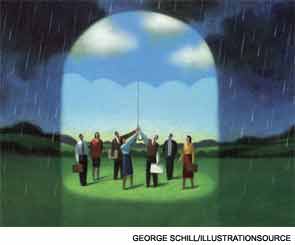 Malpractice Tips
Otolaryngologists aren't taught much about medical liability insurance in medical school or residency, so it's not surprising that strategies to reduce liability risks may not be well known.
Tips include:
Employ the informed consent process. Make it more than just a patient signing a form. Communicating clearly and frankly to patients is essential to good relationships.
Manage expectations. Closely linked to the informed consent process, if more informally, is the importance of trying to ensure that patients have a good understanding of what the potential complications are.
Quickly identify complications after surgery. Staff should diligently monitor patients' conditions to keep an eye out for complications. Patients and their family members should be briefed on conditions that warrant medical attention and should be reported to their physician.
Talking with patients after a complication has occurred is important. Link the conversation to the informed consent process to make patients aware that the complication, while not a best-case scenario, was a distinct possibility that was discussed.
Source: The Doctors Company