At first glance, the Otolaryngology Surgery Simulation Center at Montefiore Medical Center in New York resembles a traditional temporal bone dissection lab. Two sets of stations face each other, their T-bone samples in jars waiting for third-year surgical residents to try mastering complex and delicate surgery. But something is different. The stations are flanked on either side by two medical simulators-one for endoscopic sinus surgery (ESS), the other for temporal bone dissection (TBD). The temporal bone stations are otolaryngology's past; the simulators are its future.
Babak Sadoughi, MD, of Montefiore's simulation center, explained: Using cadaveric bones presents many issues. Drilling human bones is messy, it's hard to find cadavers, and there are contamination issues and strict disposal protocols to follow. Also, once you drill a bone, you're done.
With the TBD simulators, Montefiore's 20 otolaryngologic surgical residents can practice T-bone dissection to their hearts' content. Montefiore's Chair of Otorhinolaryngology-Head and Neck Surgery, Marvin Fried, MD, a pioneer in using otolaryngologic simulation since the 1980s, inherited the ESS simulator when he came to Montefiore, then figured out how best to use it.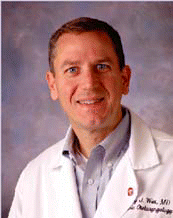 It's a multidisciplinary effort including otolaryngologists, neurosurgeons, CT and MRI experts, physicists, biomedical engineers, and computer experts to develop these standards to the level where they could impact otolaryngology and surgical training.
-Gregory Wiet, MD
Medical simulation can change everything but it still has a long way to go, said Dr. Fried. There are significant funding shortfalls interfering with our ability to perform validation studies that would eventually lead to use in board certification. That's years away. Patient safety requirements driven by AHRQ [the Agency for Healthcare Research and Quality] should help. After all, we operate in the same areas of the anatomy as neurosurgeons, so reducing errors is critical, he added.
The otolaryngologists-head and neck surgeons at Montefiore are part of a national movement to develop and integrate medical simulation into research, education, clinical practice, certification, and maintenance of credentials. Medical simulation, a subset of virtual reality, uses computer-generated images, video cameras, models, and sensors for learners to practice procedures in lifelike environments. It enhances learning with visual, auditory and haptic feedback to help physicians feel that they are making decisions and performing procedures in real life. (See part 1 of this series, ENT Today, July 2008, p. 1.) The work of some otolaryngology innovators is described below.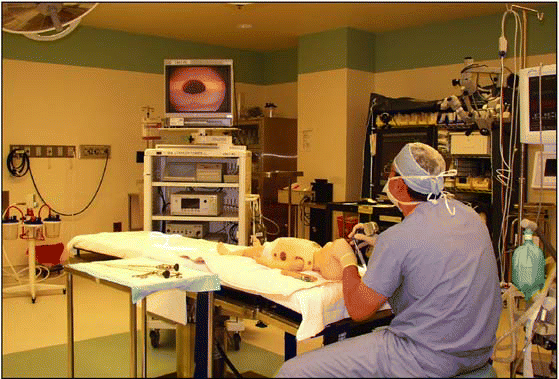 click for large version
Figure. An otolarygology resident at Alfred I. Dupont Children's Hospital is using a scope to perform direct laryngoscopy and bronchoscopy to assess whether a foreign body in present in the mannequin's airway. He is watching the image of the infant's subglottis on a monitor.
Cutting Edges
Gregory Wiet, MD, a pediatric otolaryngologist-head and neck surgeon and Associate Professor at Ohio State University, recognized simulation's potential while working as a surgical resident at OSU's Supercomputer Center in 1993-94. I was enamored of the pretty pictures, and the visualization of human anatomy. I realized that for otolaryngologist-head and neck surgeons and neurosurgeons, having a 3D reconstruction of a tumor on our laptops could help us in preoperative planning and surgery. That was novel thinking in 1993, but it's still valid today. Dr. Wiet is deeply involved invalidating data from surgical simulations.