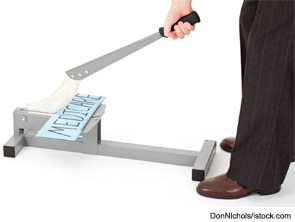 A 27.4 percent
Medicare
cut was scheduled to begin Mar. 1.
Congress' decision this month to halt a scheduled 27.4 percent Medicare reimbursement cut is good news but according to the American Academy of Otolaryngology-Head and Neck Surgeons, otolaryngologists should continue to advocate for a new payment model.
On Feb. 17 the U.S. House of Representatives and U.S. Senate passed legislation to halt Medicare payment cuts for the remainder for the year. The reductions were scheduled to begin on Mar. 1 as called for by the sustainable growth rate (SGR). Under the formula, the Medicare payment update for a year is determined by comparing cumulative actual physician expenditures to the country's gross domestic product (GDP) total in the prior year. If actual Medicare spending exceeds GDP, payment is cut.
According to a statement provided by the American Academy of Otolaryngology-Head and Neck Surgery in response to questions submitted by ENT Today, any Medicare payment cuts would force physicians to make difficult practice management decisions. "If a scheduled cut were to permanently go into effect, many providers would be forced to reevaluate their normal business operations, e.g. staffing decisions, office space, investment in technology, etc.," the statement says. "Physicians may also begin to reconsider their Medicare provider status, resulting in many seniors potentially losing access to critical specialty care."
Pages: 1 | 2 | Single Page