Researchers have begun to study the effects of MP3 players on cochlear function using transient-evoked otoacoustic emissions (TEOAEs) and distortion-product otoacoustic emissions (DPOAEs). In one study, researchers from the Basurto Hospital in Spain found that cochlear impairment can be detected "by a reduction in TEOAE and DPOAE and an increase in DPOAE threshold." The investigators noted that use of MP3 players is associated with cochlear impairment. The possibility of early detection of hearing alteration by OAEs may allow physicians to warn patients about the risks of hearing loss before it is too late, they concluded (J Otolaryngol Head Neck Surg. 2008;37(5):718-24).
A second study, led by Shaum P. Bhagat, PhD, an assistant professor at the School of Audiology and Speech-Language Pathology at the University of Memphis in Memphis, Tenn., looked at DPOAEs and synchronized spontaneous OAEs before and after a 30-minute MP3 session at 85 db (Int J Audiol. 2008;47(12):751-760). The investigators found that a comparison of pre- and post-exposure levels revealed no significant difference in hearing thresholds, but DPOAE levels were "significantly reduced following music exposure." According to the study, "the results indicate that changes in OAEs may precede the development of music-induced hearing threshold shifts."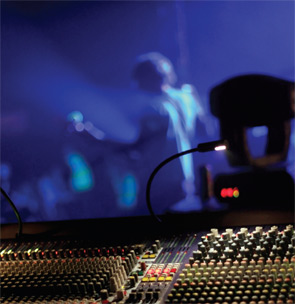 GAVMAC/ISTOCK.COM
Only 15 percent of adolescents say they use earplugs at clubs or concerts.
Missing Link: Education from Otologists
Otolaryngologists may be missing out on an opportunity to educate patients about NIHL, according to Dr. Bothwell. "We should be asking all our patients about their listening habits: Do you listen to an iPod? Are you aware that listening to your iPod at high volumes can cause permanent hearing loss? We have that responsibility."
In addition to adding questions about listening habits to a medical history, Drs. Eavey and Bothwell said the best way to reach adolescents is through a high-profile public awareness campaign, similar to the one designed to prevent drunk driving.
One program that has succeeded in reaching children has been "Dangerous Decibels" from the University of Oregon. A study of 478 fourth-grade students and 550 seventh-grade students found that students who underwent the Dangerous Decibels education program had "significant improvements in knowledge and attitudes related to hearing and hearing loss prevention" (Am J. Audiol. 2007;16(2):S165-181). The investigators, led by William H. Martin, PhD, professor of Otolaryngology/Head and Neck Surgery at Oregon Health & Science University in Portland, noted that the improvements were maintained three months after the program," they added.
"We want to target teens because, frankly, their life span is longer than adults, and the impact of the hearing loss will be longer," Dr. Bothwell said. As children and adolescents age, these deficits will be felt both in the workplace and social relationships, Dr. Bothwell added.
Now for the Good News
As a result of a 2006 lawsuit, Apple placed parental controls on iPod models, allowing parents and caregivers to set maximum volumes. Apple has also included information on NIHL on their Web site (www.apple.com/sound), but access requires the user to search the site for "noise-induced hearing loss" to find the information. In France, legislators have imposed a maximum volume of 100 db on all MP3 players sold in the country, and clubs and discos are required to sell earplugs.