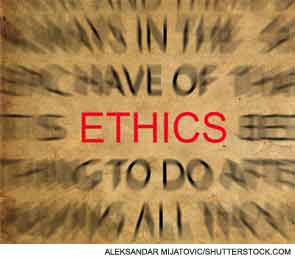 As practitioners of otolaryngology-head and neck surgery, we all face ethical dilemmas on a near-daily basis. Only a very small percentage involve major ethical dilemmas such as end-of-life decisions, withdrawal or withholding of assisted life support, organ/facial transplantation, or stem cell technology. And, although the vast majority tend to be less consequential, perhaps, taken in the collective, they reflect our own personal moral compass and adherence to a professional code of ethics. The manner in which we handle the smaller dilemmas that occur in our daily care of patients says a lot about who we are and how closely we demonstrate an acceptable ethos for our behavior, approach to patient care, and professional responsibilities.
As physicians, we are guided by our professional codes of ethics as put forward by the profession of medicine and our own specialty organizations. The guiding principles for our ethical behavior are founded on a recognition and respect of patient self-determination (autonomy), a desire to help our patients (beneficence), the obligation to do no harm (non-maleficence), and a sense of equality in caring for all patients in a non-judgmental manner and distributing available resources fairly (social justice). These general principles are further defined in any given patient situation through the appropriate application of the duties and traits of physicians—veracity, fidelity, compassion, respect for the law, safeguarding of privileged information, maintenance of one's knowledge and skills through lifelong learning, humility, prudence, fortitude, temperance, integrity, and self-effacement. While we all suffer from imperfections as human beings and as physicians, these are the goals we must continually strive to reach.
Patients expect these ethical qualities to be ingrained in our character and reflected in our daily conduct and decision-making/recommendations. As a profession and as individual physicians, we achieve these goals to varying degrees, but the important thing is to try our best to be ethical. Because much of our learning in medicine is case-based, we can apply a casuistic approach to ethical dilemmas—analyzing cases that illustrate or demonstrate how general ethical principles can be utilized to resolve moral or ethical issues. Furthermore, we can pose and evaluate cases that have wide application in the everyday practice of otolaryngology-head and neck surgery. The first case scenario of "Everyday Ethics" is presented below for thoughtful consideration.
Read the first installment in this new section: How to Handle an Otolaryngology Patient Who Declines Treatment.
---
Dr. Holt is a professor emeritus in the department of otolaryngology-head and neck surgery at the University of Texas Health Science Center in San Antonio.