He said it would be a mistake to ignore overseas medical care. "I think that organized medicine needs to get their arms around this," he said. "This train's going down the track whether doctors want to participate or not. It's happening all around the world."
It's easy to see why medical travel is becoming more popular, said David Vequist, PhD, founder and director of the Center for Medical Tourism Research at the University of the Incarnate Word in San Antonio. Some facilities abroad resemble five-star resorts, he said.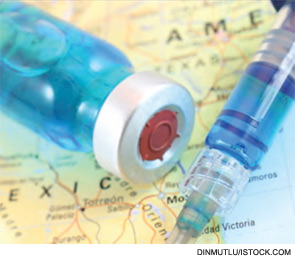 A recent survey of Americans who had considered medical travel, conducted by the Texas-based Center for Medical Tourism Research (CMTR), found that 250 of the 1,821 respondents (13 percent) had traveled abroad for health care.
"You could go and potentially see an ENT in a location that looks very much like a resort, has a pool, is down by the beach, things of that nature," he said. "After you're done with the procedure and you're going to rest, they'd have a masseuse that would be rubbing your shoulders while you're lying by the pool in your bathing suit and the cabana boy is bringing you margaritas. … That's what hospitals internationally are focusing on. Private room, private suite. And all of this for costs that are arguably 50 percent less than what you would pay in the United States."
Pages: First | ← Previous | ... | 5 |6 | 7 | ... | Next → | Last | Single Page