WASHINGTON, DC-Practice guidelines have recently been developed for patients with thyroid nodules and differentiated thyroid cancer. David S. Cooper, MD, Director of the Division of Endocrinology at Sinai Hospital and Professor of Medicine in the Division of Endocrinology at Johns Hopkins University School of Medicine in Baltimore, who chaired the committee that developed the guidelines, participated in a panel discussion about the guidelines at the recent AAO-HNS Annual Meeting.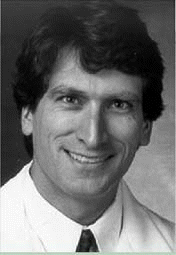 David L. Steward, MD, said that ultrasound-guided fine needle aspiration can be performed in the office at a patient's initial visit.
Scope of the Problem
Thyroid nodules are common-present in about 5% in women and 1% in men living in iodine-sufficient parts of the world. However, the prevalence is likely higher because high-resolution ultrasound can detect thyroid nodules in 19% to 67% of randomly selected individuals. The clinical problem is to isolate the 5% to 10% of these nodules that are malignant.
Differentiated thyroid cancer, which includes papillary and follicular carcinoma, comprises the vast majority (90%) of all thyroid cancers in the United States-about 33,500 cases predicted in 2007, a number that is slowly and steadily increasing.