A Nonsurgical Alternative
Another option for SSD is osseointegrated bone conduction systems, also known as bone-anchored hearing aids (BAHA). "I'm a fan of osseointegrated devices," Dr. Gurgel said. "I've certainly used them for years in my own practice and training." The problem, he said, is that not all SSD patients are good candidates for BAHA.
For example, some patients are averse to having an implanted post visible through their skin. In other cases, patients may not want to risk one of the downsides of BAHA surgery, the potential for developing skin overgrowth around the post or infections, which occurs in up to 22% of patients (Otolaryngol Head Neck Surg. 2008;139:829-832). In patients who are averse to osseointegrated devices because of the potential for such effects, "the SoundBite is a viable alternative that can effectively deliver sound into the inner ear," Dr. Gurgel said.
For SSD patients who can't afford the out-of-pocket expense of the SoundBite, which Dr. Gurgel said is about $7,000, other options are certainly available. If BAHA is a consideration, he suggests one of the newer-generation systems that carry a lower risk for skin problems related to the device. Cochlear Corp., for example, has developed the DermaLock system, which employs a hydroxyapatite ring set around an extended, 8.5-mm abutment. In a recent study, rates of infection, skin overgrowth, and the need for revision surgery related to wound complications were significantly decreased in patients
implanted with the 8.5-mm abutment when compared with a retrospective historical cohort of patients implanted with a 5.5-mm abutment, the authors reported (Laryngoscope. Published online ahead of print September 23, 2013; doi: 10.1002/lary.24399).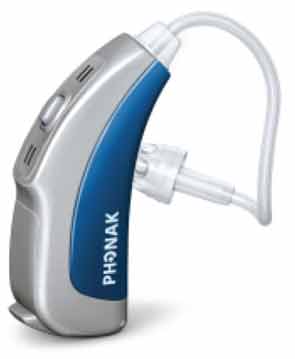 Newer CROS devices feature wireless technology.
Next Up: Cochlear Implants for SSD?
Researchers at the University of Iowa Hospitals and Clinics, in Iowa City, just published a trial of cochlear implantation (CI) in patients with unilateral hearing loss (Otol Neurotol. 2013;34:1681-1687). The study's positive results may well be a game-changer in the management of selected SSD patients, according to co-author Bruce J. Gantz, MD, professor and head in the department of otolaryngology-head and neck surgery.
The study included 29 patients with SSD who underwent CI. In 10 of the patients, the hearing loss was due to Meniere's disease and was accompanied by recalcitrant vertigo. A labryinthectomy was done in the latter group during the implant procedure, as well as in two patients from the larger group.