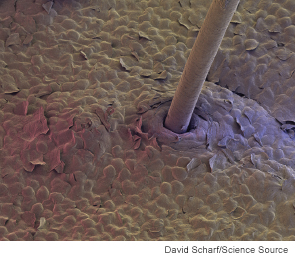 Hair loss can be a significant issue for men over age 50. Androgenic alopecia affects an estimated 35 million men in the United States, and the National Institutes of Health estimates that more than 50% of men older than age 50 have some degree of hair loss. Women are not immune: The International Society of Hair Restoration Surgery estimates that 21 million women experience hair loss, affecting 50% of them by age 50.
Remedies for androgenetic alopecia do exist, but not many are approved by the U.S. Food and Drug Administration (FDA). Only two drugs, minoxidil and finasteride, currently have FDA approval for treatment of the condition. For women, minoxidil is currently the only FDA-approved treatment, although androgen inhibitors such as spironolactone and cimetidine are often used.
Two newer therapies involve platelet-rich plasma injectables and the use of robotics to enhance follicular unit extraction during hair transplantation. These treatments have benefits and drawbacks for otolaryngologists wishing to expand their hair restoration clinical practice.
Platelet-Rich Plasma Injections
Platelet-rich plasma (PRP), which can also be found in the form of a platelet gel, is a type of blood plasma that has been enriched through concentration of autologous platelets. PRP is used in clinical practice to stimulate bone and soft tissue healing in a number of medical treatments for cardiac muscle injury, bone repair and regeneration, nerve injury, plastic surgery, and more. PRP treatment is not a replacement or an alternative to another hair restoration therapy; rather, it fills a gap in treatment modalities.
Physicians are using PRP in the treatment of androgenic alopecia both on its own and as an adjunct to hair transplantation surgery, said Lisa Ishii, MD, associate professor of facial plastic and reconstructive surgery in the department of otolaryngology-head and neck surgery at Johns Hopkins Medicine in Baltimore. "Some physicians inject it directly into the scalps of patients who have androgenic alopecia and who have existing hair follicles to stimulate hair growth," she said. "The same injection technique is used to try to promote hair growth in patients who have undergone hair transplantation surgery."
"Doctors are using it for various indications such as chronic tendinopathies and arthopathies, arterial leg ulcers, pressure ulcers, chronic wounds, burn, surgical wounds, post-traumatic scars, and facial rejuvenation," said Gorana Kuka, MD, chief resident at Colic Hospital, the largest private hospital for plastic, reconstructive, and aesthetic surgery in Serbia. "Due to the many different growth factors that are released after platelet degranulation, PRP initiates and enhances physiological processes that contribute to tissue recovery."