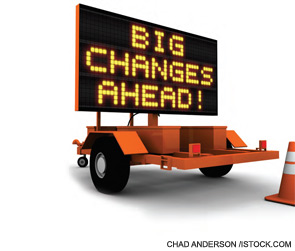 One of the most common criticisms of the 2010 health care reform law is that it doesn't do enough to reduce health care costs. Richard Gilfillan, MD, however, begs to differ.
Dr. Gilfillan is acting director of the new Center for Medicare and Medicaid Innovation, which was created under the Patient Protection and Affordable Care Act to test and disseminate new models of health care delivery and payment that reduce costs while improving quality. "The Center for Innovation is a giant ball of potential energy for change in the health care system," Dr. Gilfillan said at a December 2010 conference held by the journal Health Affairs.
Waste accounts for about 30 percent of health care spending, Dr. Gilfillan said. The center's goal is to find ways to take those dollars and redistribute them into new models that meet the twin goals of lower costs and higher quality. The current health care system is "unsustainable," he said. "We all know it."
Three Main Projects
Health care delivery needs to shift from today's system, which is marked by fragmented care delivered by providers in various silos, such as inpatient, outpatient, home health and nursing home care, to a seamless system of coordinated care, he said. To make that happen, the federal government will have to transform how it pays for care. Some of the care delivery and payment ideas the center expects to explore are patient-centered medical homes, accountable care organizations (ACOs) and bundled payment, Dr. Gilfillan said.
The center has announced three initial projects, which are focused on primary care. One effort will test the patient-centered medical home model, which is led by a personal physician who provides continuous, coordinated care throughout a patient's lifetime, in Maine, Michigan, Minnesota, New York, North Carolina, Pennsylvania, Rhode Island and Vermont. The Multi-Payer Advanced Primary Care Practice Demonstration is expected to include more than 1,200 medical homes serving almost one million Medicare beneficiaries. The project aims to evaluate the effectiveness of doctors and other health professionals across the care system working in a more integrated fashion and receiving more coordinated payment from Medicare, Medicaid and private health plans.
A second initiative, the Federally Qualified Health Center Advanced Primary Care Practice Demonstration, will test the effectiveness of doctors and other health professionals working in teams to treat low-income patients at community health centers. The demonstration is expected to operate in up to 500 health centers and provide care to about 195,000 people with Medicare.
A third project creates a state option under which Medicaid patients who have at least two chronic conditions can designate a provider as a "health home" that would help coordinate care. States that go this route will receive enhanced financial resources from the federal government to support Medicaid health homes.
The center, which is part of the Centers for Medicare and Medicaid Services, also announced an upcoming initiative in which states can apply for contracts to support development of new models aimed at improving the quality, coordination and cost-effectiveness of care for beneficiaries who are eligible for both Medicare and Medicaid, also known as "dual eligibles."
Involvement from Specialists
Whether and how specialists like otolaryngologists fit into these experiments is unclear. The center did not respond to requests for an interview.
"The idea of delivering integrated, coordinated care for patients is critical, but it's important that we look at the subspecialty aspect of patients' care and make sure that this does not in any way preclude patients from seeing specialists," said Pete Batra, MD, associate professor and co-director of the Comprehensive Skull Base Program in the department of otolaryngology-head and neck surgery at the University of Texas Southwestern Medical Center in Dallas.
As the center forges ahead, physician input is crucial to the positive development of new patient care models, said American Medical Association (AMA) President Cecil Wilson, MD, in a November statement. "All the new models of care currently being designed, from medical homes and bundling to accountable care organizations, can and should be physician-led initiatives so that the programs are designed with patients' health care needs front and center," he said. "Physicians from different types of practices and practice sizes should be able to participate so that all patients reap the benefit of new ways that health care is delivered."
Once the center's projects are up and running, the Department of Health and Human Services is allowed to expand their scope and duration if it deems that doing so would reduce spending without hurting quality or improve quality and reduce spending. The department could make expansions through its regular rule-making process.
"We don't know what the long-term savings are going to be or if this will truly enhance the quality of care, Dr. Batra said "For our specialty, we have to be proactive and make sure we are there at the table having our voice heard; otherwise, somebody else will make the decisions for us."
Input from Medical Societies
Medical societies are working to make sure their concerns are taken into account. In December 2010, 17 medical specialty societies, including the American Academy of Otolaryngology-Head and Neck Surgery, sent a letter to CMS outlining several concerns about the Medicare Shared Savings/ACO program created under the health reform law and ways the agency could best address them. The AMA sent a similar letter.
An ACO is an organization of health care providers that agrees to be accountable for the quality, cost and overall care of Medicare beneficiaries who are enrolled in the traditional fee-for-service program. Organizations that meet quality performance standards will be eligible to receive a share of the savings if the actual per capita expenditures of their assigned Medicare beneficiaries are a sufficient percentage below a benchmark amount.
Among other issues, both letters express concern that the participation of small, independent practices in ACOs could run them afoul of the federal antitrust, physician self-referral and anti-kickback statutes. The societies call for safe harbors and waivers so that practices can work collaboratively with others. "Currently, all of these laws and associated guidelines favor hospital-based systems with employed physicians," the AMA letter states. "Yet the best way to preserve opportunities for appropriate competition in health care and choice for patients is to enable physicians to form ACOs in ways that enable them to continue practicing independently of hospitals and large health systems."
In his December speech, Dr. Gilfillan emphasized that he wants to continue to hear from provider groups. "We want to be a trustworthy partner to identify, validate and diffuse new models of care and payment that improve health care and reduce costs," he said.