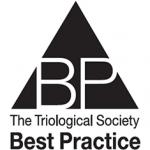 TRIO Best Practice articles are brief, structured reviews designed to provide the busy clinician with a handy outline and reference for day-to-day clinical decision making. The ENTtoday summaries below include the Background and Best Practice sections of the original article. To view the complete Laryngoscope articles free of charge, visit Laryngoscope.com.
Background
The nasal swell body (NSB) is a distinct structure of the anterior nasal septum. Comprised of septal cartilage, bone, and a thick mucosal lining, the NSB is visible on endoscopic examination and radiographic study. However, it receives little attention in the clinical setting and can be confused with high septal deviation. Based on anatomical and histological evidence, investigators theorize that the NSB plays an important role in nasal airflow regulation and humidification. Should otolaryngologists pay more attention to this structure, especially as it relates to nasal obstruction?
Best Practice
According to the current literature, the NSB possesses venous sinusoids and seromucinous glands, is located in or near the distal segment of the internal nasal valve, is common in patients with symptoms of chronic sinusitis, and is linked to septal deviation and allergic rhinitis. Otolaryngologists should therefore pay more attention to this structure, especially as it may play a role in regulating nasal airflow and humidifying inspired air (Laryngoscope. 2015;125:1759–1760).