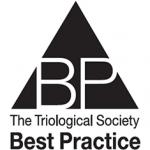 TRIO Best Practice articles are brief, structured reviews designed to provide the busy clinician with a handy outline and reference for day-to-day clinical decision making. The ENTtoday summaries below include the Background and Best Practice sections of the original article. To view the complete Laryngoscope articles free of charge, visit Laryngoscope.com.
Background
Septoplasty is a common procedure performed for the primary indication of nasal airway obstruction. Physical examination with anterior rhinoscopy (AR) and nasal endoscopy (NE) is considered the gold standard for detecting and rating septal deviation. Computed tomography (CT) can also be used to evaluate the nasal septum. Otolaryngologists may use CT in selecting surgical candidates, especially because it is often ordered in the context of chronic rhinosinusitis, whereas insurance companies may request a CT scan for objective evidence to approve septal surgery. Moreover, preoperative CT can be used for further examination of the nasal anatomy and identification of ancillary sinonasal pathologies. However, this modality has additional costs, exposes patients to harmful radiation, and may provide a different assessment of septal deviation than a dynamic three-dimensional physical examination. It is therefore necessary to examine guidelines for its appropriate use before septoplasty.
Best Practice
Based on the reviewed literature, reliance on CT for selection of septoplasty candidates or insurance approval of septal surgery is discouraged. CT was shown to underestimate the findings of NE for deviations of the internal nasal valve. Moreover, subjective symptoms of nasal obstruction did not correlate with anatomical parameters measured with CT at the internal nasal valve. This region of the nasal cavity significantly contributes to total nasal airflow resistance. Though one study recommended CT for evaluation of the posterior septum, the clinical significance of posterior deviations requires further investigation. On the other hand, preoperative CT can be helpful in identifying ancillary sinonasal pathologies contributing to nasal obstruction, especially concha bullosa and sinusitis. However, given the additional costs and exposure to radiation associated with CT, preoperative imaging should only be ordered for a subset of patients. Although it is advisable to order a preoperative CT when NE is limited by obstructive pathology or in the setting of chronic rhinosinusitis, future research is needed to establish a consensus on selection criteria (Laryngoscope. 2016;126:1268–1270).