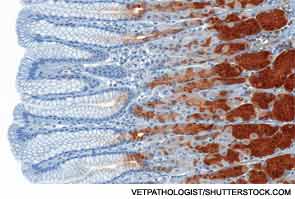 Pepsin may be the best biomarker yet developed for assessing whether reflux and aspiration of stomach contents into the upper airways is an important contributing factor in pediatric lung disease, according to a team of researchers from the Medical College of Wisconsin (MCW). Their study, published in JAMA Otolaryngology-Head & Neck Surgery, found that more than two-thirds of children with a variety of pulmonary disorders tested positive for pepsin in bronchoalveolar lavage fluid (BAL) (2013;139:996-1001). All of the control BAL specimens, obtained from patients with no history of lung disease, tested negative for pepsin, according to co-author Joseph Kerschner, MD, dean and professor of otolaryngology at MCW.
The results show that the pepsin test, a proprietary Western blot assay developed by the team, is a highly accurate method for assessing aspiration-associated extraesophageal reflux disease (AERD) and, moreover, that AERD may be a previously under-recognized cause of pulmonary symptoms in patients with chronic lung problems.
Given the relative inaccuracy of a lipid-laden alveolar macrophage (LLM) assay, a test that is considered one of the current mainstays for evaluating aspiration in these patients and that was assessed in the same study, the results may prove to be practice-changing, Dr. Kerschner told ENTtoday. "Granted, more work needs to be done to show causality between a positive pepsin test, the presence of AERD and chronic respiratory symptoms," he said. "But once we get there—and we are confident we will—we really feel this is a groundbreaking paper that will have a major impact on how clinicians ultimately diagnose and treat patients with chronic lung disease."
The study, which was first reported at the 2013 Spring Meeting of the American Society of Pediatric Otolaryngology, included 76 patients (mean age, 6.5 years): 34 who underwent bronchoscopy, 31 who underwent tracheostomy and 11 who served as controls. Patients in the bronchoscopy and tracheostomy groups had a variety of chronic respiratory symptoms, including recurrent wheezing, chronic cough, recurrent pneumonia, regurgitation, suspected aspiration, and shortness of breath. None of the control patients had such conditions; in most cases, they had undergone the diagnostic lung testing prior to elective surgery and the bronchial aspirate was collected through their endotracheal tube.
The researchers identified pepsin-positive BAL fluid specimens in 25 patients who underwent bronchoscopy (74 percent) and 22 patients in the tracheostomy group (71 percent). As noted, all control specimens were negative for pepsin. LLM results, in contrast, were much less helpful; the macrophage biomarker was detected in BAL specimens from 31 patients in the bronchoscopy group (91 percent), 16 patients in the tracheostomy group (52 percent) and perhaps most importantly, in seven control patients (64 percent).