Personalized Care: Study highlights which patients would benefit from a second round of chemoradiation
Joseph K. Salama, MD, assistant professor in the department of radiation oncology at Duke University Medical Center in Durham, N.C., and one of the investigators in the study, said the research highlights the need to "appropriately select who gets this treatment. More and more patients are having initial chemotherapy and radiation together. Our study shows that for those patients who go on to have recurring cancer or a second cancer, prior treatment with both chemotherapy and radiation therapy means they may not do as well."
The data suggest that a patient can be considered for a second course of chemotherapy and radiation if the tumor recurs in a previously irradiated area and if the patient does not have evidence of a distant cancer. However, patients who are incapacitated, those who have tumors that cannot be irradiated and those with recurrence very shortly after the initial treatment should be considered for a different type of treatment, Dr. Salama said
Patient Selection Is Critical
According to Matthew Fury, MD, PhD, assistant attending physician in the head and neck service at Memorial Sloan-Kettering Cancer Center in New York, the research results, although not surprising to experienced centers, "help us at least pull together the available information to select patients. If you have that rare patient who has all four favorable prognostic factors, you can go forward with reirradiation with some degree of confidence."
David Schwartz, MD, associate professor and vice chair in the departments of radiation medicine, otolaryngology, and molecular medicine at Hofstra North Shore-Long Island Jewish School of Medicine in New York, said appropriate patient selection is critical. "It is widely known that people who are heavily pretreated and recur do worse with salvage treatment," he said. "The patients who tend to fail after chemoradiotherapy tend to fail in a much more widespread pattern, and those people don't do well."
Jonas Johnson, MD, professor and chair of otolaryngology at the University of Pittsburgh School of Medicine, said patients who require a second treatment and don't have a very good prognosis are more likely to die of cancer and to have treatment-related side effects and complications.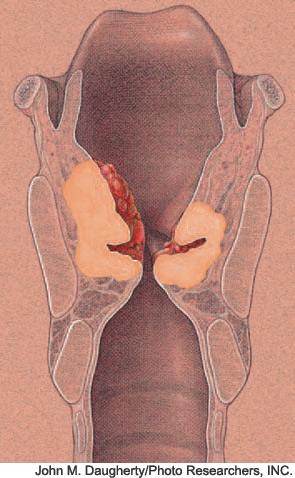 Illustration of stage IV laryngeal carcinoma in both the glottic and supraglottic regions of the larynx.
This paper clarifies the risks imposed by reirradiation and chemotherapy, but the surgical option also extracts a large price, Dr. Johnson said. "The surgeries are almost always more difficult, more likely to have complications and side effects, and the cure rate, although better than 25 percent, is not better than 50 percent," he said.