"Reflux is often a cause of chronic laryngitis, but I think that we, as otolaryngologists, need to remember other potential causes," said Dale Ekbom, MD, a laryngologist at the Mayo Clinic in Rochester, Minn.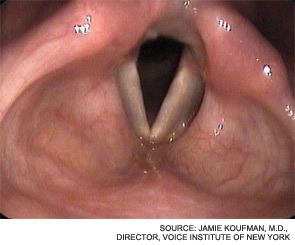 Same patient after 8 weeks of treatment (diet and medication). The ventricles are open and the vocal folds are thin; the entire posterior larynx is also dramatically improved.
Dr. Klein said the controversy relates to the frequency with which LPR is diagnosed. "It's become a bit of a wastebasket diagnosis," he said. "Unfortunately, it is often done without people doing a thorough workup to confirm or deny the presence of reflux."
Lee Akst, MD, director of Johns Hopkins Voice Center in Baltimore, pointed to the side effects associated with proton pump inhibitors and other antacids. "These side effects get worse the longer someone is maintained on the medications," he said.
On the other hand, Jamie Koufman, MD, director of the Voice Institute of New York, professor of clinical otolaryngology at New York Medical College and author of Dropping Acid: The Reflux Diet Cookbook & Cure, said it is "profoundly disappointing that we are still in the Stone Age with regard to reflux, since it is one of the most important diseases of our time."
Dr. Koufman pointed out some of the progress that has been made in this area. "Using state-of-the-art reflux-testing, we have shown that LPR accounts for 80 to 90 percent of laryngitis cases over a 25-year period," she said. "The reflux conundrum today is primarily due to fragmentation between medical specialties, suboptimal diagnostic testing and treatment for LPR (at the hands of both otolaryngologists and gastroenterologists), and ignorance of the scientific literature on LPR. Many of my colleagues seem to have not even read the scientific articles."
Linda Brodsky, MD, president of Pediatric ENT Associates in New York and co-author of a 2007 study on LPR (Int J Pediatr Otorhinolaryngol. 2007;71(9):1361-1369), said most physicians believe vocal cord nodules are the most common cause of hoarseness in children, "but I do not agree. I believe hoarseness is widely ignored by primary care physicians and parents…reflux laryngitis is the most common cause today."

"Reflux is often a cause of chronic laryngitis, but I think that we, as otolaryngologists, need to remember other potential causes."
—Dale Ekbom, MD
Common Mistakes and Problems
For some patients initially seen by primary care physicians, accurate diagnosis and treatment may be delayed. That's one reason AAO-HNS adopted guidelines for chronic hoarseness in September. [Visit enttoday.org to read a previous article on this topic, "Sore Spot: New hoarseness guidelines stir controversy."]