In the early 1980s, a scientist discovered a way to identify proteins that mimic the natural proteins (epitopes) that make up the antibody-binding site and cause the vaccine to bind to the antigen. These synthetic proteins, called mimotopes, produce an immune response similar to that of epitopes but do not possess the harmful substances that can result in toxicity. Researchers began using mimotopes in 2003 to attempt to develop a more cost-effective, more stable, and safer NTHi vaccine.
Time Frame
What researchers need to determine next is whether a child's ability to fight off otitis media is determined by antibodies in the ear mucus, or antibodies circulating in the blood and lymph vessels. Microbiologists have a great deal of experience with vaccines that create antibodies in the blood, so design of the vaccine will move quickly if these antibodies are determined to be most important. However, if the solution lies with antibodies in the ear mucus, the team will be faced with the challenge of developing a new type of vaccine.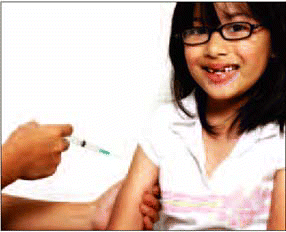 click for large version
Figure. A vaccine for NTHi would lead to a significant reduction in ear infections from bacterial causes.
To make this determination, the immune systems of 400 two-month-old infants will be examined. The infants will be divided into three groups: those with no ear infections, few ear infections, and many ear infections. Researchers will compare the immunity response among the groups to determine how the natural response can be mimicked by a vaccine. Researchers will then be able to determine which bacterial proteins need to be included in the vaccine.
Pages: First | ← Previous | ... | 2 |3 | 4 | ... | Next → | Last | Single Page