ENToday recently reported on a move toward more conservative use of antibiotics and ventilation tubes in the treatment of pediatric ear infections (ENToday, Nov. 2006, p. 1). Certainly, it would be preferable if we could find a way to prevent or reduce the number of ear infections a child experiences in the first place. Recent news reports indicate that researchers are now one step closer to that goal.
A research team at the University of Rochester Medical Center recently received a $3.5 million grant from the National Institute of Deafness and Other Communications Disorders (NIDCD) and a $500,000 grant from the Thrasher Foundation to develop a vaccine against nontypeable haemophilus influenzae (NTHi). Preliminary trials of the vaccine could begin as early as next year.
Bacterial Causes of Otitis Media
According to the NIDCD, the three main bacterial causes of otitis media are Streptococcus pneumoniae, Moraxella catarrhalis, and NTHi.
A vaccine targeting S. pneumoniae was introduced in 2000 and marketed by Wyeth as Prevnar, utilizing technology also developed at the University of Rochester Medical Center. The Centers for Disease Control and Prevention (CDC) and the American Academy of Pediatrics recommended in 2002 that this vaccine be given to all infants and children under the age of 5. Since that time, the CDC reports a 78% reduction in pneumonia rates from the streptococcal strains targeted by this vaccine. A vaccine for NTHi would cause an additional significant reduction in the number of ear infections resulting from bacterial causes.
Decades in the Making
Technologies developed over decades are being combined and utilized to develop a safe and effective vaccine against NTHi. As with all vaccines, the basic idea is to inject the individual with an antigen from the bacteria or virus to stimulate the production of antibodies against that particular bacteria or virus. The antibodies then bind to the antigen, rendering it harmless.
One of the major antigens on the surface of NTHi bacteria cells is lipo-oligosaccharide (LOS), which is highly toxic when given to humans. In an effort to use this antigen to produce a vaccine for NTHi, researchers attempted to remove the toxic effects, creating dLOS, which proved to be unable to start antibody production. However, by combining dLOS with a vaccine for tetanous toxoid, researchers were able to stimulate the immune system to create antibodies in laboratory animals. A Phase I clinical trial involving 40 human adults was then conducted in 2002, showing this vaccine to be safe in that population.
In the early 1980s, a scientist discovered a way to identify proteins that mimic the natural proteins (epitopes) that make up the antibody-binding site and cause the vaccine to bind to the antigen. These synthetic proteins, called mimotopes, produce an immune response similar to that of epitopes but do not possess the harmful substances that can result in toxicity. Researchers began using mimotopes in 2003 to attempt to develop a more cost-effective, more stable, and safer NTHi vaccine.
Time Frame
What researchers need to determine next is whether a child's ability to fight off otitis media is determined by antibodies in the ear mucus, or antibodies circulating in the blood and lymph vessels. Microbiologists have a great deal of experience with vaccines that create antibodies in the blood, so design of the vaccine will move quickly if these antibodies are determined to be most important. However, if the solution lies with antibodies in the ear mucus, the team will be faced with the challenge of developing a new type of vaccine.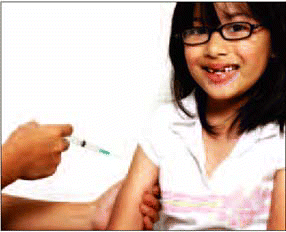 click for large version
Figure. A vaccine for NTHi would lead to a significant reduction in ear infections from bacterial causes.
To make this determination, the immune systems of 400 two-month-old infants will be examined. The infants will be divided into three groups: those with no ear infections, few ear infections, and many ear infections. Researchers will compare the immunity response among the groups to determine how the natural response can be mimicked by a vaccine. Researchers will then be able to determine which bacterial proteins need to be included in the vaccine.
This study will involve collecting blood and mucus samples from these infants from the time they are two months old through their second year. In this effort, the University of Rochester Medical Center is partnering with Michael Pichichero, MD, and the Elmwood Pediatric Group. Dr. Pichichero's practice has participated in pediatric clinical trials for 60 years.
Projected Benefit
Researchers hope to eventually combine the ingredients from the NTHi vaccine with the streptococcal vaccine, creating a vaccine that could prevent 90% of ear infections, sinus infections, and bronchitis. This would create a significant reduction in ear infections that an estimated 83% of children in the United States experience before the age of three.
Julie L. Wei, MD, Assistant Professor and Pediatric Otolaryngologist in the Department of Otolaryngology-Head and Neck Surgery at University of Kansas Medical Center, predicted that assuming a positive clinical outcome, the NTHi vaccine, like the streptococcal vaccine, will eventually be recommended for all children. She stated, If developed, I would expect that the NTHi would be recommended for all children, similar to Prevnar, and not just for high-risk patients, especially if it's made as a mimitope and proven to be safe without any side effects.
Dr. Wei predicted that contraindications for the vaccine will likely be similar to those for use of Prevnar and other conjugate vaccinations. She cited immunocompromised patients as the primary example: Patients who are immune-compromised may have a reduced antibody response, and depending on how the vaccine is made, there may be potential toxicity for an immunocompromised patient that would not affect a healthy individual.
The NIDCD reports that scientists are also working on a vaccine for the third primary bacterial cause of otitis media, M. catarrhalis, in the hope of one day developing a single vaccine that will reduce the incidence of otitis media caused by S. pneumoniae, NTHi, and M. catarrhalis.
Dr. Wei commented that immunizing children against these bacterial strains may cause a synergistic benefit by having protection against common pathogens causing ear infections, but she cautioned, Vaccinations cannot obliterate all infections, since we know that acute otitis media is likely in early childhood due to poor eustachian tube function, and the pathogens isolated from middle ear effusion simply mirror the most common colonizing pathogens in the nasal cavities and nasopharynx of young children. Since it is not possible to eradicate colonizing bacterial pathogens normally found in all healthy individuals, there is always the possibility of infection.
Additional Resources
National Institute of Deafness and Other Communications Disorders (NIDCD)
Vaccine for Middle Ear Infections is the Highest Form of Flattery, Safer Too
www.nidcd.nih.gov/research/scientists/gux.asp
New Candidate Otitis Media Vaccine
www.nidcd.nih.gov/research/stories/archives/05/04_19_05.asp
Clinical Trials
Vaccination for Middle Ear Infection
http://clinicaltrials.gov/ct/show/NCT00001605?order=1
©2007 The Triological Society