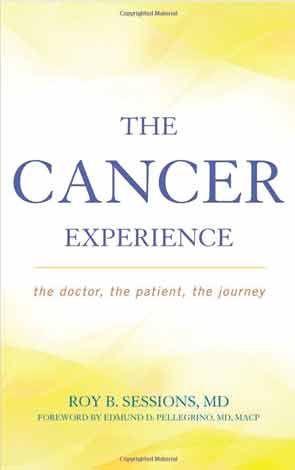 Roy Sessions, MD, is a well-known, respected head and neck surgeon who has added a great deal to the literature about treating cancer patients, including a seminal paper on medial maxillectomy for inverting papilloma (Arch Otolaryngol. 1977;103:195-202). Now in partial retirement, Dr. Sessions has written The Cancer Experience: The Doctor, the Patient, the Journey (Rowman & Littlefield Publishers, 2012)—a book not about protocols or surgical techniques of treating patients with head and neck cancer, but about taking the holistic approach to patients with cancer, from psychological, moral and religious perspectives.
Although he is a head and neck cancer surgeon, Dr. Sessions includes all cancers in his book. This broad perspective makes it interesting to any health professional who deals with cancer patients, as well as those afflicted with the disease. Dr. Sessions takes the patient-centric philosophical position of being a cancer physician, illustrating his story with real-world experiences he has encountered during his long career. His thoughtful discussion covers both practical and emotional matters incurred during cancer treatment.
Dr. Sessions' passion for the profession of medicine is very clear, his discussion of the privilege and responsibility of being a physician is very compelling, and his concerns about the impact of corporate medicine on the doctor/patient relationship are timely. His admonition that professionalism is a topic on which all physicians should reflect on a regular basis has always been true, but given how the practice of medicine is changing today, is also very timely.
Having been involved in academic medicine throughout his career, Dr. Sessions has trained a large group of residents and fellows. He feels that one of the most important responsibilities of those in academic leadership positions is to perpetuate traditional high professional and moral standards by selecting only those residents who meet those standards. He also credits the residents he has worked with as having had a very positive impact on him.
In his introspective analysis, he discusses the evolution of his thoughts as he matured throughout his career. One issue that became more and more apparent to him is the importance of the emotional bond between doctor and patient, along with the doctor's sensitivity to the psychological needs of the patient. He gives examples of how the cancer diagnosis affected his patients and makes a strong case that communication between doctor and patient is critical and that the pressures of time make this difficult. One aspect of communication he emphasizes is honesty with patients in explaining the realistic expectations of treatment, which also relates to the wise use of resources.