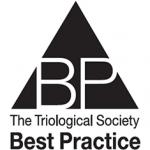 TRIO Best Practice articles are brief, structured reviews designed to provide the busy clinician with a handy outline and reference for day-to-day clinical decision making. The ENTtoday summaries below include the Background and Best Practice sections of the original article. To view the complete Laryngoscope articles free of charge, visit Laryngoscope.com.
Background
Lymphatic spread in oral cavity squamous cell carcinoma (OSCC) remains a critical factor for staging, treatment, and prognosis. Involvement of the regional lymphatics portends approximately 50% decrease in survival. OSCC-cervical metastases remain common. Due to the inaccuracy of the physical exam and imaging to reliably detect occult disease, elective neck dissections (ENDs) have become the standard of care for the majority of clinically node-negative (cN0) patients. However, many patients (55%–76%) with T1/2 cN0 OSCC disease will not have pathologically positive cervical metastases, and are being subjected to overtreatment with unnecessary morbidity by an END. Sentinel lymph node biopsy (SLNB) has emerged as a powerful tool for advancing minimally invasive surgical management of many cancers. SLNB has been proven to be highly sensitive, cost-effective, and beneficial to patient quality of life. The data supporting the use of SLNB in early-stage OSCC, a brief description of the SLNB method, and recent technical advances are the focus of this article.
Best Practice
SLNB has emerged as a powerful adjunct to END in early-stage OSCC to identify cervical metastases, which can have significant therapeutic and prognostic implications. The method has shown excellent NPV that can be even more effective with novel radiopharmaceuticals and qRT-PCR. This technique, when properly conducted, can reliably be done in lieu of an END for cT1/2 N0 OSCC, thereby avoiding unnecessary morbidity and cost (Laryngoscope. 2016;126:9–10).