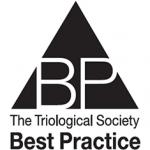 TRIO Best Practice articles are brief, structured reviews designed to provide the busy clinician with a handy outline and reference for day-to-day clinical decision making. The ENTtoday summaries below include the Background and Best Practice sections of the original article. To view the complete Laryngoscope article, visit Laryngoscope.
BACKGROUND
Merkel cell carcinoma (MCC) is an aggressive neuroendocrine cutaneous malignancy that most commonly arises on the sun-exposed skin of the head and neck. Twenty percent to 40% of patients with MCC have clinically negative (N0) cervical lymph node basins. Due to the rarity of disease (0.6 per 100,000 person-years incidence), the optimal management of clinical N0 disease has been based primarily upon retrospective studies.
The utility of sentinel lymph node biopsy (SLNB) has been extensively verified in the diagnostic workup of melanoma, and given the clinical and histologic similarities of the two malignancies, SLNB was adopted for use in treatment planning for MCC (Head Neck. 2014;36:571-579). While the 2021 National Comprehensive Cancer Network (NCCN) guidelines recommend wide local excision of the primary tumor and SLNB for clinically N0 MCC, high-level evidence demonstrating improved survival in head and neck MCC (HNMCC) patients can be expanded (J Natl Compr Cancer Netw. 2018;16:742-774). For positive SLNB, the NCCN recommends "node dissection and/or RT [radiation therapy] to the nodal basin" and for negative SLNB advises observation except for high-risk patients. All HNMCC patients—particularly recurrent MCC and immunosuppressed patients—are characterized as "high risk" because of higher false-negative SLNBs due to aberrant lymph node drainage, and thus irradiation of the draining nodal basin for subclinical disease should be considered. The NCCN recommends that SLNB with lymphoscintigraphy be utilized to determine which cervical neck levels should be included in the radiation field. Due to the rarity of disease and paucity of high-level studies, management of the clinical N0 remains controversial.
BEST PRACTICE
Taken together, the studies presented demonstrate that SLNB with lymphoscintigraphy is an important technique in the management of clinical N0 HNMCC as it can help guide treatment and determine drainage lymph node basins for radiation therapy. In positive SLNB, RT and RT + completion lymph node dissection have been shown to improve overall survival compared to neck dissection alone. With a negative SLNB, nearly one in five HNMCC patients will develop recurrent disease, and, therefore, RT to the drainage lymph nodes as determined by lymphoscintigraphy should be strongly considered after weighing patient preference and risk factors such as immunosuppression and recurrent disease.