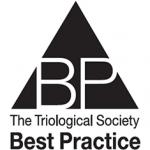 TRIO Best Practice articles are brief, structured reviews designed to provide the busy clinician with a handy outline and reference for day-to-day clinical decision making. The ENTtoday summaries below include the Background and Best Practice sections of the original article. To view the complete Laryngoscope article free of charge, visit Laryngoscope.
Background
The human papillomavirus (HPV) vaccine has been available in the United States since 2006 and was first approved by the FDA for both men and women aged 9 to 26 years; this was increased to ages 9 to 45 years in 2018. In August 2019, the Advisory Committee on Immunization Practices (ACIP) stated that, although it did not recommend routine vaccination for adults aged 27 to 45 years, some patients in this age group may be at risk for new HPV infection, and thus a process of shared clinical decision-making could be used regarding vaccination in this cohort (MMWR Morb Mortal Wkly Rep. 2019;68:698-702). The current vaccine protects against nine different HPV types causing HPV-associated cancers (about 34,000 cases annually in the U.S.) and anogenital warts. The vaccine has been demonstrated to be both safe and effective. Despite only about 60% vaccine uptake among adolescents, the prevalence of HPV infections has declined among young women and also in some unvaccinated groups (ibid).
Despite FDA approval, the ACIP did not recommend routine vaccination for adults due to the rationale that the vaccine is most effective before any exposure to HPV has occurred, and several cost-effectiveness analyses have demonstrated little additional benefit in vaccinating adults on a population level. However, new oropharyngeal cancer cases per year now outnumber cases of cervical cancer in the U.S. and affect more men than women (ibid; J Clin Oncol. 2018;36:262-267). Since ACIP recommendations become official U.S. vaccine policy, there is a risk that a lack of recommendation may be perceived as a recommendation against vaccination. As otolaryngologists and head and neck surgeons, we have an important role to play in counseling patients regarding the HPV vaccine. Despite the ACIP statement, should we be recommending HPV vaccination for our adult patients aged 26 to 45 years?
Best Practice
Based on studies of the previously available bivalent and quadrivalent HPV vaccines, the current HPV vaccine is safe and proves efficacious in both adult women and men aged over 26 years, even in individuals with prior HPV exposure. (Lancet Infect Dis. 2016;16:1154-1168; Gynecol Oncol. 2013;130:264–268; Vaccine. 2019;37:2864–2869). In the gynecologic literature, the HPV vaccine also demonstrates the potential to reduce the recurrence of precancerous lesions caused by HPV infection (Gynecol Oncol. 2013;130:264–268). At current levels of HPV vaccine uptake in the eligible young adult population, especially the low rate in men, the impact of the vaccine on oral HPV prevalence is limited with regard to rising incidence of HPV-associated oropharyngeal cancers (J Clin Oncol. 2018;36:262-267). Although we as otolaryngologists do not often administer the HPV vaccine in our practices, the potential benefits of increasing vaccine uptake far outweigh the limited risks, and in the United States we do not face issues with adequate vaccine supply. We should be recommending the HPV vaccine to all our adult patients aged 26 to 45 years who have not yet been vaccinated.