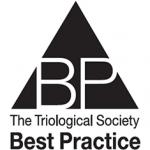 TRIO Best Practice articles are brief, structured reviews designed to provide the busy clinician with a handy outline and reference for day-to-day clinical decision making. The ENTtoday summaries below include the Background and Best Practice sections of the original article. To view the complete Laryngoscope articles free of charge, visit Laryngoscope.
Background
Congenital cytomegalovirus (cCMV) is the leading infectious cause of pediatric sensorineural hearing loss (SNHL) with significant public health costs on par with those from otitis media. Polymerase chain reaction (PCR)–based assays have been tested in a large number of children and have demonstrated high sensitivity and specificity. Despite these findings and recent studies showing efficacy, feasibility, and cost effectiveness, there is a paucity of evidence-based reviews evaluating the role of cytomegalovirus (CMV) testing, specifically for infants who fail their newborn hearing screening.
Best Practice
Given the current evidence available, it is recommended that infants who fail their newborn hearing screening should undergo CMV testing. Given the high incidence of asymmetric hearing loss in cCMV infected children, CMV screening should be performed not only for those with bilateral failed hearing screening but also for those with unilateral failed results. Gaps of knowledge include the optimal hearing screening protocol (e.g., automated auditory brainstem response or otoacoustic emissions or both), the number of hearing screenings prior to CMV screening (e.g., screening at the birth hospital or first outpatient screen), the role of antiviral therapy in CHIP children, and whether the diagnosis of all cCMV-infected children from universal CMV screening can improve their hearing or speech and language outcomes (Laryngoscope. 2018;128:295–296). rogression of vestibular disease, as well as to enhance training and access to vHIT (Laryngoscope. 2017;127:2689–2690).