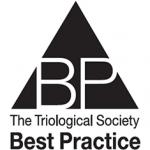 TRIO Best Practice articles are brief, structured reviews designed to provide the busy clinician with a handy outline and reference for day-to-day clinical decision making. The ENTtoday summaries below include the Background and Best Practice sections of the original article. To view the complete Laryngoscope article free of charge, visit Laryngoscope.
Background
Cytomegalovirus (CMV) is the leading nongenetic cause of congenital sensorineural hearing loss (SNHL), affecting approximately one-third of children with SNHL. Congenital CMV (cCMV)-associated SNHL can occur unilaterally or bilaterally, may range from mild to profound, and is often progressive. The gold standard for cCMV diagnosis is detection on viral culture or polymerase chain reaction (PCR) using blood, urine, saliva, or cerebrospinal fluid within the first 21 days of life. PCR on dried neonatal blood spot has also emerged as a retrospective testing method for cCMV infection in children without active viremia, although the sensitivity is poor. cCMV infection is classified as asymptomatic, asymptomatic with isolated SNHL, mildly symptomatic, and moderately to severely symptomatic (Lancet Infect Dis. 2017;17:e177-e188). Mildly symptomatic cCMV is defined as the presence of one or two symptoms that are mild and transient. Moderately to severely symptomatic cCMV features multiple manifestations of the infection along with central nervous system involvement. The recommended treatment of neonates with moderate to severe symptomatic cCMV is a six-month oral valganciclovir course. SNHL treatment in the cCMV setting, however, is not well established.
Best Practice
Antiviral treatment is associated with improved hearing outcomes in neonates presenting with cCMV and symptomatic central nervous system involvement. The evidence supporting antiviral treatment of cCMV in patients with isolated SNHL is more limited, with only two studies specifically examining its effects (J Laryngol Otol. 2009;123:391–396; J Pediatr. 2018;199:166–170); both studies, however, suggest that antiviral treatment is associated with hearing improvement or preservation. Neonates diagnosed with SNHL from cCMV should, therefore, be referred to pediatric infectious disease specialists as soon as possible for antiviral therapy consideration. This should ideally be done at a tertiary center where the potential for clinical trial participation can be considered.