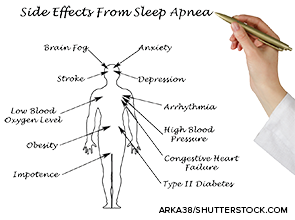 Although surgery was the first treatment available for sleep apnea, relatively few advanced training opportunities have been available for those who want to subspecialize in sleep surgery. Currently, there are many programs with fellowship positions in sleep medicine or sleep surgery. "The amount of interest is increasing," said Kanwar Kelley, MD, JD, resident at the University of California, Irvine and chair of the AAO-HNS Section for Residents and Fellows-in-Training.
Nonetheless, Kathleen L. Yaremchuk, MD, MSA, chair of the department of otolaryngology–head and neck surgery in the Henry Ford Health System in Detroit, reports that currently 25% of sleep fellowships are not filling their positions and that the fellowships are less attractive than in the past due to declining reimbursements for sleep studies. Several specialties can apply for fellowships, including anesthesia, pediatrics, psychiatry, neurology, pulmonology, otolaryngology, family practice, and internal medicine. "Sleep medicine recognizes that home sleep testing is resulting in decreased revenue and that the treatment of obstructive sleep apnea is not very stimulating," she said. "For this reason, otolaryngologists are in a unique position. They can offer CPAP and surgical procedures for treatment and further differentiate themselves to patients."
The University of Washington offers an Accreditation Council for Graduate Medical Education (ACGME)-accredited one-year hybrid sleep medicine and sleep surgery fellowship track. Graduates are eligible for the sleep medicine sub-certification through the American Board of Otolaryngology. The fellowship includes well-rounded sleep medicine training in adult, pediatric, and dental sleep medicine, and a comprehensive sleep surgery experience (30% time) in adult and pediatric sleep surgery. It also includes research training opportunities.
For July 2015, University of Washington filled its fellowships with applicants from specialists outside of otolaryngology. "This year one of our fellows is an otolaryngologist in the hybrid sleep medicine/surgery fellowship track," said Edward M. Weaver, MD, MPH, professor of otolaryngology, chief of sleep surgery, and co-director of the University of Washington Medicine Sleep Center in Seattle.
Eric J. Kezirian, MD, MPH, professor of otolaryngology-head and neck surgery in the University of Southern California's Keck School of Medicine in Los Angeles, said the program had many applicants in 2014 for its two sleep medicine fellowship positions, and both were filled by otolaryngologists who will begin their fellowships later this year. "We have a schedule with some elective time, and they will spend it with me in an enhanced sleep surgery experience," he said.
Some otolaryngologists may be interested in a fellowship that is more focused on sleep surgery, without the training to take the sleep medicine board examination. "We have considered this an option if there is interest," Dr. Kezirian said.