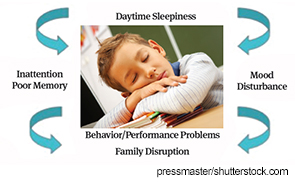 Impact of Sleep Disturbances
Source: Seattle Children's Hospital

Sleep problems and disorders are common in children with chronic health conditions and, if left unrecognized and unaddressed, can have a significant negative effect on the course of the chronic illness and on overall quality of life in both the children and their families. A panel of experts at the meeting discussed the effects of sleep problems on symptom presentation and response to treatment in a variety of chronic health conditions, as well as ways to tailor sleep interventions for children based on their health conditions.
Children with chronic pain. According to Tonya M. Palermo, PhD, professor in the department of anesthesiology and pain medicine at the University of Washington and the Seattle Children's Hospital Research Institute, up to 50% of children and adolescents with chronic pain report sleep problems, with similar sleep disturbances shown in patients with a variety of conditions that cause chronic pain, including juvenile arthritis, headache, complex regional pain syndrome, and sickle cell disease.
Insomnia is the predominant sleep problem reported in more than half of these children, she said, and is related to worse outcomes in children with chronic pain. "Youth with sleep problems/insomnia have higher levels of disability related to pain, [have] worse quality of life, and use more healthcare services," she said, adding that research shows that sleep problems persist over time and do not remit even with improvement in pain.
She emphasized the importance of intervening to reduce sleep problems in order to interrupt the negative cycle of persistent pain and disability, as well as the need to target both sleep habits and depressive symptoms, both important predictors of chronic insomnia in this population. In particular, she said the use of behavioral strategies to treat insomnia, such as sleep restriction and stimulus control, can be very effective in youth with painful conditions.
The need for more intensive interventions, Dr. Palermo said, is highlighted by findings that cognitive behavioral pain interventions can improve pain and disability but do not appear to affect sleep.
She urged otolaryngologists to pay attention to signs of insomnia in children with chronic pain. "Particular attention should be paid to identifying difficulties with sleep onset and maintenance and making appropriate referrals for behavioral intervention for these children," she stressed, reiterating that untreated insomnia in these children is likely to persist and have a negative impact on the chronic pain condition.