Since President Richard M. Nixon declared a war on cancer more than 30 years ago, the battle still rages on several fronts. On the front lines are the continued attempts at finding ways to prevent the disease from occurring at all, and on this battlefield the debate over one primary target of prevention is engaged in heavy fire: tobacco. As the main cause of lung cancer, which kills more people in the United States than any other cancer, as well as implicated in a host of other cancers and ill health effects, smoking tobacco is under attack by physicians, public health policy makers, government officials, insurance companies, and all those taking up arms to prevent this deadly disease.
According to Michael J. Thun, MD, National Vice President of Epidemiology and Surveillance Research at the American Cancer Society, a number of policies have been effective in reducing tobacco use, such as increasing the price of cigarettes through excise taxes, restricting smoking in public places, and the use of counter-advertising that that has effectively reduced the uptake of smoking by children, cut back on per capita cigarette consumption, and denormalized tobacco use. Despite their proven effectiveness, however, inadequate implementation of these policies at the state and federal levels are impeding their success, he said.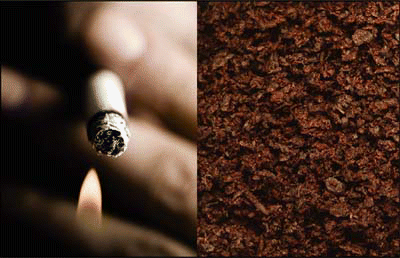 click for large version
Figure. Although smokers who switch to smokeless tobacco may decrease their lung cancer risk, they may expose themselves to a greater risk of oral cancer and other systemic side effects.
Another strategy that is under intensive investigation is finding alternative products that may satisfy the smoker's addictive needs while reducing the adverse effects of tobacco on their health. One alternative that has caught the attention of some public health officials is the possibility of reducing cancer risk in smokers by advocating the use of chewing tobacco (more aptly called snuff or smokeless tobacco, since the correct way to use these products is not to chew them but to place them snugly between the cheek and gums) in place of smoking. The rationale is based on evidence that shows decreased lung cancer mortality and other cancer risks in users of smokeless tobacco products with low nitrosamine content versus those who smoke. However, the downside is the potential oral health risks, including cancer, as well as the yet unknown systemic side effects of these products. How do oral specialists and other cancer experts feel about this question?