If anyone has a sense of how socioeconomic status (SES) affects the health of patients, it is Urjeet A. Patel, MD. His head and neck surgery practice is divided between two centers that represent patients from quite different walks of life: Northwestern University Hospital and John H. Stroger, Jr. Hospital of Cook County, both in Chicago. The former is a prestigious university medical center that attracts people from around the globe, whereas the latter is a well-known public hospital that serves as a safety-net facility for uninsured or underinsured patients.
Seeing patients in different hospital systems gives me good perspective on some of the socioeconomics that affect our patients at Cook County, Dr. Patel told ENT Today. Dr. Patel, Assistant Professor at Northwestern University and Chair of Otolaryngology at Cook County Hospital, is involved in a number of studies looking at patient compliance and health as they relate to socioeconomic issues.
In one study, recently published in Laryngoscope, Dr. Patel and colleagues looked at compliance to radiation therapy in head and neck cancer patients at the Cook County hospital. The study population consisted largely of people who were unemployed, minorities, and presented late with disease. The study found that only 10% of the patients complied fully with radiation treatments, with the remainder missing half or more treatments. However, SES factors such as ethnicity, sex, and primary tumor status did not predict who would be compliant.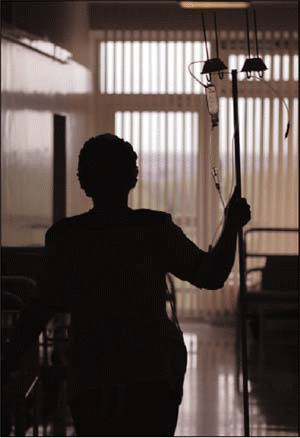 click for large version
Figure. Uninsured and underinsured patients tend to present late with disease, have difficulty accessing specialty care, and have poorer outcomes than well-insured patients.
Dr. Patel pointed out that the study did not specifically address insurance status, but noted that 40% to 50% of the hospital's patients are either uninsured or underinsured. He suspects that insurance status may be a big factor in patients not coming in for the treatments they need.
Various studies in the medical literature show that uninsured and underinsured patients tend to present late with disease, have difficulty accessing specialist care, and generally have poorer outcomes than patients with good insurance coverage, he said. That factor alone may be the biggest SES factor with these patients. Dr. Patel plans to look specifically at this and related issues in future studies to help get a better handle on what this means in otolaryngologic cancer patients.
SES factors such as race, education, sex, ethnicity, and income, undeniably have impacts on people's health too. Race can be linked to genetic risks, or even to perceived or real prejudices; being male or female may increase the risk for certain medical conditions; ethnicity and culture could influence a patient's attitude toward getting medical care; and low income can be tied in to various barriers to accessing health care, such as not being able to afford to get to medical appointments. Understanding how each of these factors can influence patient health and patterns for accessing care are all important areas to study in otolaryngology, said Dr. Patel.
Insurance Status as Predictor of Health Status
But insurance status may well be the biggest predictor of both individual and population health-making it an important SES area to study.