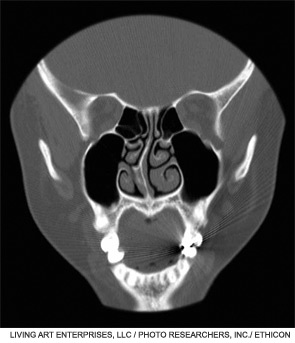 This coronal (frontal) CT of the paranasal sinuses and nasal cavity shows the typical appearance of deviation of the nasal septum. Right: Samples of the PDS plate.
For patients who undergo septoplasty to repair a crooked septum, reconnecting pieces of cartilage and stabilizing the cartilage during the healing process is critical to achieving straight alignment of the nasal septum. Stabilizing cartilage is particularly challenging for patients who require correction of severe septal deviations or severe post-traumatic deformities that are often both functional and cosmetic.
According to Miriam Boenisch, MD, PhD, an otolaryngologist at Medicent Linz in Austria, in these cases, the cartilage needs extra support to maintain stability because the manipulations required to straighten the cartilage during a difficult septoplasty procedure also weaken the mechanical stability of the cartilage. Finding ways to provide the needed support to maintain stability through the healing phase in these more difficult and complex septoplasty procedures is critical to successful outcomes, and implants are needed, Dr. Boenisch said. Although autologous implants using bone from the posterior septum can be used, increased attention is being paid to another relatively new implant that, according to Dr. Boenisch, is more readily available than autologous implants and is easier to affix to cartilage.
Called the PDS flexible plate, the implant is made of polydioxanone, a polymer that degrades by hydrolysis and is completely resorbed by the body. It is the same polymer that has been used in PDS sutures. The implant comes in three sizes, 0.15 mm perforated, and 0.25 and 0.55 non-perforated.
| | |

Next →

|
Single Page