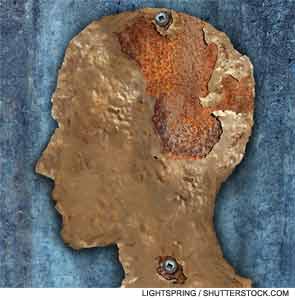 Evidence is mounting that hearing loss in older patients is not just a relatively benign condition that, at its worst, leads to frustrated family members who can't make themselves heard. Research by at least two independent groups has shown a strong association between hearing loss and cognitive decline. The results are troubling enough to cause one investigator to call for an all-hands-on-deck push to make age-related hearing loss a public health priority.
"In terms of the strengths of the findings, we're not talking about a 20 percent or 40 percent increase; the two- to five-fold higher rate of dementia we've documented in one study is just a huge effect," said Frank R. Lin, MD, PhD, an assistant professor in the division of otology, neurotology and skull base surgery at Johns Hopkins School of Medicine, assistant professor in the division of geriatric medicine in the Johns Hopkins Center on Aging and Health and assistant professor in the departments of epidemiology and mental health at the Johns Hopkins Bloomberg School of Public Health in Baltimore. "My collaborators at the NIA [National Institute on Aging] were very surprised at the strength of the association."
Dr. Lin's research has been supported by a Triological Society/American College of Surgeons Clinical Scientist Development Award, a National Institute on Deafness and Other Commucations Disorders/National Institutes of Health Career Development Award and the Elearnor Schwartz Charitable Foundation.
Given the rapidly aging population and the shortcomings of current hearing-loss therapy, "this is an under-recognized issue that has to be addressed," said Dr. Lin.
The study in the NIA-sponsored Baltimore Longitudinal Study of Aging was one of Dr. Lin's first to show such a strong link between hearing loss and dementia (Arch Neurol. 2011;68:214-220). The study included 639 participants, most of whom were between 60 and 80 years of age. At baseline, none of the participants had any evidence of cognitive impairment, although some had hearing loss. During a median follow-up of 11.9 years, 58 cases of incident all-cause dementia were diagnosed, of which 37 were considered to be Alzheimer's disease. The risk for participants developing dementia "increased linearly with the severity of hearing loss," Dr. Lin said. Compared with normal hearing, the hazard ratio (risk) for dementia was 1.89 (1.00–3.58) for mild hearing loss, 3.00 (1.43–6.30) for moderate hearing loss and 4.94 (1.09–22.40) for severe hearing loss. These results were supported by a subsequent study of nearly 2,000 patients (JAMA Intern Med. 2013;173:293-299), and in another study by an independent study group in the U.K. (Neurology. 2012;1583-1590).