click for large version
Figure 1. Amplitude Asymmetry Z-Scores: Comparison of the power balance between two sites. Arrows point from greater to lesser.
Other acoustic-physical therapies include surface quantitative electroencephalography (QEEG), which uses digital technology to measure electrical patterns on the scalp that reflect cortical activity (Figure 1). QEEG provides insight into underlying cellular, neuronal and interneuronal substrates involved in brain rhythms and their affect in tinnitus production.
Magnetoencephalography (MEG) (Figure 2) is being used investigatively in a small group of patients to identify tonotopically accurate cortical sites for electromagnetic stimulation. However, MEG is not yet not approved or available as a clinical treatment.
In most people with hearing loss, there are probably perturbed hair cells sending an abnormal signal, said Michael D. Seidman, MD, Director of the Division of Otologic and Neurotologic Surgery and Medical Director of the Center for Integrative Medicine at Henry Ford Health System in Detroit. The intervention works by using both fMRI and, more specifically, MEG. Essentially, the intracranial hot spots that correlate to the pitch of the patient's tinnitus are targeted, and that sound is played back to the patient so the team can observe where the brain lights up. If I can get into the cortex, or better yet into limbic system, and change the patient's perception of that symptom by perturbing the signals, I can perhaps improve their perception, Dr. Seidman said.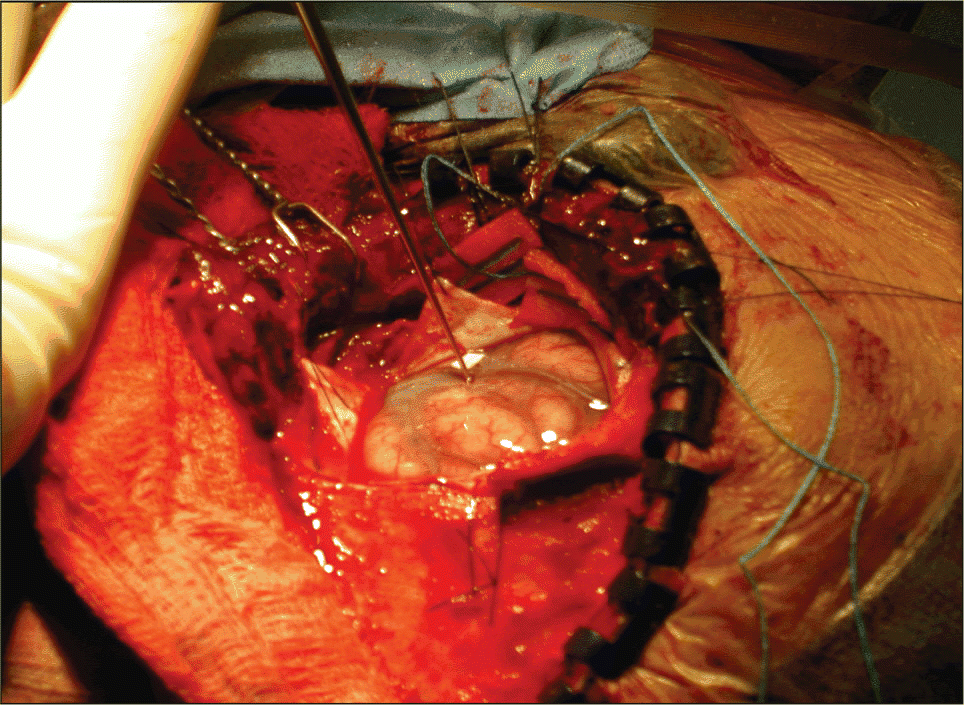 click for large version
Figure 2. This picture reveals a right temporal craniotomy with exposure to Heschl's gyrus and the auditory cortex. The hand-held neuronavigation device is coupled with the magnetoencehpalographic and fMRI images to facilitate precise placement of the intracortical electrodes.
Investigations of electrical stimulation are promising but have yielded mixed results to date. The challenge is determining how to target the specific nerve population that controls the neural activity. Accurate targeting is difficult at this stage, is relegated more to trial and error, and requires precise electrode placement. There is also increasing (yet somewhat equivocal) evidence that individuals with cochlear implants and brainstem implants experience tinnitus suppression with electrical stimulation. Research shows that about 50% of patients with cochlear implants experience improvement of their tinnitus.
Advising the Patient with Tinnitus
Although most treatments are concerned with the auditory component of tinnitus, the emotional and attentional components are generally considered to be the most treatable.
We don't have the magic bullet to knock out the tinnitus signal, said Dr. Kaltenbach, but we have a lot in our armamentarium to help tinnitus sufferers adapt and cope.