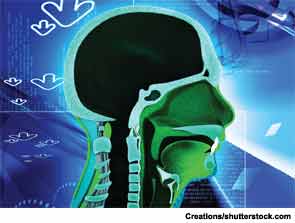 What's the best way to evaluate dysphonia? That question has been the subject of much discussion and research in otolaryngology since the American Academy of Otolaryngology – Head and Neck Surgery released the first and only clinical practice guideline for hoarseness (dysphonia) in 2009 (Otolaryngol Head Neck Surg. 2009;141:S1-S31).
While the guideline states that a "clinician may perform laryngoscopy at any time in a patient with hoarseness," it also includes a strong recommendation that states that "the clinician should visualize the patient's larynx, or refer the patient to a clinician who can visualize the larynx, when hoarseness fails to resolve by a maximum of three months after onset, or irrespective of duration if serious underlying cause is suspected."
However, some otolaryngologists argue that waiting three months, even if serious disease is not expected, may delay appropriate treatment, negatively affect patients' quality of life and increase health care costs. "If a patient walks into an ophthalmologist's office saying they can't see, you don't just give them glasses and say, 'OK, see how this goes for three months.' You do an exam to find out why the patient can't see and then you give them the treatment," said Milan Amin, MD, associate professor of otolaryngology at New York University School of Medicine and director of the NYU Voice Center.
To effectively diagnose and treat voice disorders, otolaryngologists have to get down to the root cause of the difficulty. "Hoarseness is a symptom," said Clark Rosen, MD, associate professor of otolaryngology at the University of Pittsburgh and director of the University of Pittsburgh Voice Center. "Our job is to create a differential diagnosis and work through that differential diagnosis."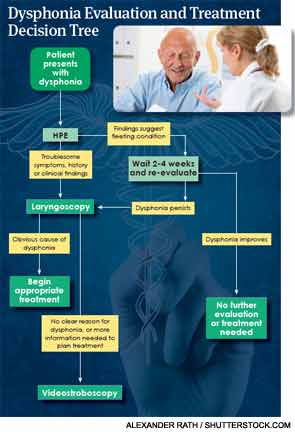 Dysphonia Evaluation and Treatment Decision Tree
Initial Evaluation of Voice Disorders
Some causes of voice disorders are obvious and self-limiting. "If I go to a Knicks game and yell, I'm going to get hoarse, and that's a relatively fleeting condition. If I have an upper respiratory infection and I'm hoarse, there's reason to believe that's a fleeting condition," said Ryan Branski, PhD, assistant professor of otolaryngology at New York University and associate director of the NYU Voice Center.