But where he draws the line is asking patients their preferred treatment option without offering his advice concerning his preferred treatment options. "There can be many options of therapy," Dr. Persky said. "But here is where the art of being a physician enters … certainly a patient has the final decision, but I do not present the options and then ask him or her to make a choice. The patient is there for my expertise, and after discussing the options, I present them my preference for therapy."
Dr. Persky added that another skill of a good physician is delivering that recommendation the right way after considering each patient's unique situation and problems, which ultimately engenders even more trust.
"In discussing the options of treatment, you must appear confident without appearing arrogant. This is a very fine and difficult line to follow," he said. "The patient has to have full faith and confidence that you are the one whom they can trust with their life."
Triological Society New Fellow Thesis Award Winners
Three new fellows presented their award-winning theses at the Triological Society's 2018 121st Annual Meeting.
Harris P. Mosher Award for Clinical Research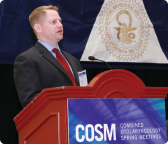 How Does Aging Affect Recognition of Spectrally Degraded Speech? —Aaron Moberly, MD, The Ohio State Universty Wexner Medical Center, Columbus.
Dr. Moberly looked at what factors impact speech recognition for patients with cochlear implants (CI). In his medical school and residency training, he did work on CIs and speech development in children, but his interest gravitated toward an older population.
"We see enormous variability in terms of speech recognition outcomes for patients with implants, and we don't have a good understanding of what underlies that," Dr. Moberly said. "It's apparent, though, that aging leads to declines in the ability to understand degraded speech, and it looks like that occurs through both changes in auditory processing and higher level cognitive changes that occur with aging."
The cross-sectional study supported the hypothesis that "the detrimental effects of advancing age on speech recognition can be attributed both to declines in auditory spectral resolution as well as declines in cognitive functions." Both adult CI users and patients with normal hearing were assessed for speech recognition using sentences and words. For those with normal hearing, speech was spectrally degraded using noise-vocoding. Cognitive skills were also assessed using nonauditory visual measures, including working memory and perceptual closure.
"Teasing apart auditory processing and cognitive processing can be very challenging," Dr. Moberly said. "That's one of the things that I really wanted to include."