The next step for his research is to work on better assessment batteries and focused post-operative aural rehabilitation (AR), Dr. Moberly added.
"By understanding (these issues) better, we should be able to develop better interventions," he said. If "someone has very poor auditory processing, maybe you could train them in some fashion to get better, versus someone who has cognitive declines or cognitive changes that are impacting their outcomes."
Edmund Prince Fowler Award for Basic Research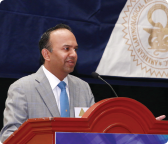 Disruption of Sinonasal Epithelia Nrf2 Enhances Susceptibility to Rhinosinusitis in a Mouse Model —Murray Ramanathan, Jr., MD, associate professor for the departments of otolaryngology–head and neck surgery and neurosurgery at Johns Hopkins School of Medicine in Baltimore.
Dr. Ramanathan was interested in rhinology because he had sinus and allergy problems growing up. He became interested in the Nrf2 transcription factor that helps regulate multiple antioxidant genes after working with a leading expert at Johns Hopkins Bloomberg School of Public Health, Shyam Biswal, PhD. Blend those two together and his thesis choice makes a whole lot of sense. "People have looked at (Nrf2) in asthma and the lungs, but no one has looked at it in the nose," Dr. Ramanathan said. "As a rhinologist, I care about the nose. It's bringing my clinical interests [together] with (Dr. Biswal's). Together, it's a partnership, and it's great because it's a frustrating disease to treat. There are not a whole lot of options out there."
The most common treatments, of course, are steroids and surgery. But Dr. Ramanathan's research demonstrated enhanced severity of eosinophilic sinonasal inflammation from disruption of the epithelial-specific Nrf2 pathway. The mice also exhibited increased goblet cell hyperplasia and sinonasal epithelial thickening, as well as elevated mucosal IL-13 levels, findings similar to those seen in chronic rhinosinusitis patients.
Future research will continue testing the mice model and progress to clinical trials as quickly as possible. "The antioxidant system does play a role in sinusitis and chronic sinusitis, and it does provide a nonsteroidal avenue for possible therapies," Dr. Ramanathan said, adding that this is important because steroids are associated with so many side effects.
Another reason for excitement, he added, is that there are already multiple "existing and emerging FDA-approved Nrf2 activating drugs that can be repurposed."
"You don't need to create a drug," Dr. Ramanathan said. "You just need to study the efficacy and to make sure there are no side effects for using it for different purposes."
Maureen Hannley Award for Alternative Science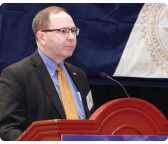 Comprehensive Look at Chronic Sinusitis Using a Claims Database —James Denneny III, MD, executive vice president and CEO of the American Academy of Otolaryngology–Head and Neck Surgery