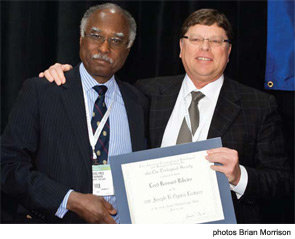 Triological Society
President Gerald Berke, MD, presenting Lord Bernard Ribeiro, FRCS, FACS, with the Ogura lecture award.
CHICAGO — New limits on doctors in training in the United Kingdom (U.K.) have drastically reduced the amount of training they receive and may put patients in peril, a renowned retired British surgeon told listeners here on April 29 at the Annual Meeting of the Triological Society, held as part of the Combined Otolaryngology Spring Meetings.
Lord Bernard Ribeiro, FRCS, FACS, critiqued the British system, now in effect for two years, and offered it as a cautionary tale for the American medical system, where new rules for medical trainees, imposed by the Accreditation Council for Graduate Medical Education (ACGME), are scheduled to go into effect on July 1.
Lord Ribeiro presented as the Society's Joseph H. Ogura, MD, lecturer.
Reduced Hours
Working hours allowed for doctors in training have been reduced in England from 58 in 2004 to 48 in 2009. In addition, the rules stipulate that 11 hours of continuous rest must be given in every 24-hour period immediately after the working period.
In the U.S., the cap on weekly hours will remain the same, 80 hours per week averaged over four weeks, but first-year post-graduates will be limited to 16 hours a day, effectively forcing a rest period. After the first year, a 24-hour workday is allowed, with "strategic napping" suggested. The hope is that the limits will reduce the number of medical errors committed by sleep-deprived residents.
The standards also emphasize the importance of supervision and teaching, as well as the patient handover process. Compliance is voluntary, but for those who choose not to follow the rules, accreditation may be in jeopardy.
In the U.K., "the rest requirement was crucial," making training far too rigid to work well, said Lord Ribeiro, a former consultant surgeon at Basildon Hospital in England and former president of the Royal College of Surgeons of England. "And actually they're not dissimilar from the rest requirements that you have in your ACGME rules."
The new rules in the U.S. have drawn criticism, mostly for the 16 hour-a-day limit on first-year post-grads. Most of the comments on the rule have been negative, with some asserting that not enough time is left for quality education. The American College of Surgeons has been especially critical, expressing "very grave concerns" about the first-year limits, and predicting "a negative impact on patient safety and continuity of care unless there is a substantial increase in human resources to replace the residents."