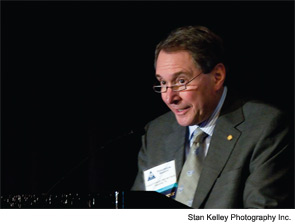 Dr. Ossoff speaking at the Combined Sections Meeting on Jan. 26.
MIAMI BEACH — Robert Ossoff, DMD, MD, said he "never in a million years," as a young doctor, thought that he would be standing at a podium giving the presidential address to the Triological Society.
Now that he holds the position of society president, he can't believe how much time has flown by. "Who would have ever appreciated how quickly the years would pass to get here?" Dr. Ossoff, executive medical director of the Vanderbilt Voice Center, told his audience on Jan. 26 at the Triological Society Combined Sections Meeting.
But that quick pace, he said, has brought to mind an issue that is often acknowledged by otolaryngologists as important but is not meaningfully acted on: finding a balance between work and other pursuits. Dr. Ossoff said that an off-kilter work-life balance is a significant problem and encouraged his colleagues to "prioritize goals to reflect professional and personal values [and] consciously set realistic expectations for yourself and others."