Although the worldwide incidence of allergic rhinitis has been on the rise, many experts debate whether that trend is due to mounting air pollution, indoor environmental factors, improved hygiene practices, genetics, geographic location or all of the above.
There may not be one answer to the question of why allergic rhinitis is becoming more common, but there is little doubt that the disorder has been increasing at an alarming rate. According to the American College of Allergy, Asthma and Immunology (ACAAI), allergic rhinitis has increased 100 percent in each of the last three decades.
ENT Today recently spoke with experts on the subject to help unravel some of the mysteries surrounding the rise in allergic rhinitis.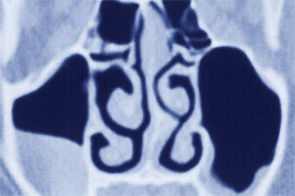 BSIP /PHOTO RESEARCHERS, INC.
MRI of the skull. According to the ACAAI, allergic rhinitis has increased 100 percent in each of the last three decades.
Pollution
"There is clear evidence that much of that increase has occurred in developing countries," said Matthew Ryan, MD, assistant professor of otolaryngology at the University of Texas Southwestern Medical Center in Dallas. Although it is difficult to get a handle on the epidemiology of allergic rhinitis, studies have shown that the occurrence of allergic rhinitis is increasing in areas that used to have a low prevalence, such as developing countries, Dr. Ryan said (Allergy. 2008;63 Suppl 86:8-160).
Although experts haven't fully explained that trend, most speculate that it is related to the fact that those countries are adopting more western lifestyles. "More people are moving from rural, agricultural settings, which traditionally have had lower rates of allergies, to more urban settings, which have higher levels of air pollution," Dr. Ryan said.
Three recent European studies support the hypothesis that an increase in air pollution has contributed to a rise in allergic rhinitis. The main culprits? Growing concentrations of sulfur dioxide (SO2), ozone (O3) and carbon monoxide (CO).
In the first study, researchers at the Royal Free and University College Medical School in London found that increased exposure to SO2 in children was associated with a 24.5 percent rise in office visits for allergic rhinitis, while increased exposure to ozone was associated with a 37.6 percent rise (Am J Epidemiol. 2001;153(7):704-714). The association with SO2 remained highly significant in the presence of other pollutants, according to the authors, "suggesting that air pollution worsens allergic rhinitis symptoms, leading to substantial increases in office visits."
The second study, of 20,455 children seen at seven different care sites in Spain, found that annual average concentrations of SO2 were significantly associated with a higher prevalence of recent severe asthma, rhinitis and rhinoconjunctivitis (Arch Bronconeumol. 2009;45(5):224-229). Carbon monoxide was associated with a higher prevalence of rhinitis, rhinoconjunctivitis and eczema. The authors concluded that the data establish a clear link between the pollutants and the children's worsening allergic disease.