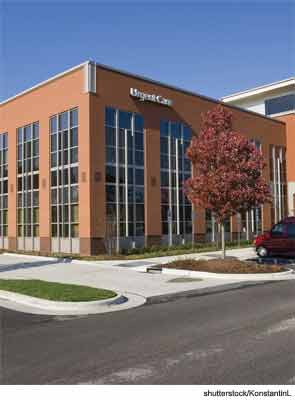 There are now more than 8,700 urgent care centers in the U.S.—up from 8,000 in 2008.
When Peter Batra, MD, sees patients at his office at the University of Texas Southwestern Medical Center in Dallas, some of them have already tried to get medical treatment at urgent care facilities but didn't find relief.
"A lot of patients are sent to me with chronic sinonasal issues, and many of them have sought care at urgent care facilities," said Dr. Batra, the co-director of Southwestern's Comprehensive Skull Base Program. "Patients with complex sinus issues may end up undertreated or treated inappropriately because the treating physician may not have the right diagnosis."
He typically urges his patients to avoid seeking medical care at such facilities and notes that while urgent care centers can offer basic care for routine ear, nose and throat issues, otolaryngologists can better manage a complicated diagnosis. "For a more significant problem, we can do endoscopy," he said. "It allows us to better guide their care. We also have the ability to get imaging, if needed, so we can get a diagnosis with a CT scan if necessary."
But urgent care facilities, which feature walk-in medical care with extended hours, have their place and, quite frankly, are here to stay. In fact, their numbers are growing. According to the Urgent Care Association of America, there are more than 8,700 urgent care centers in the United States—up from about 8,000 in 2008. Designed to handle one-time illnesses or injuries, they are an alternative for patients who might otherwise head to a hospital's emergency room for treatment or wait for an opening at a primary care physician's office. For patients with routine otolaryngology issues such as ear infections, sinus problems, coughs, allergies or asthma, the convenience of a facility that's open later than most doctor's offices, that will see patients soon after they walk in the door and that are committed to shorter wait times than patients would find in a typical emergency room experience can't be beat.
What's also appealing is their potential to help curb health care spending. "It's a cost-effective way to deliver care appropriately," said Laurel Stoimenoff, the interim executive director and a member of the board of directors of the Urgent Care Association of America in Naperville, Ill. According to a 2009 Medical Expenditure Panel Survey by the Agency for Healthcare Research and Quality, the median cost of an emergency room visit was $615 and the mean cost was $1,318. The average cost of a visit at an urgent care center was $118 to $120, depending on regional nuances and other factors, said Stoimenoff.