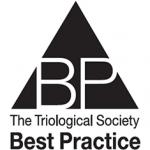 TRIO Best Practice articles are brief, structured reviews designed to provide the busy clinician with a handy outline and reference for day-to-day clinical decision making. The ENTtoday summaries below include the Background and Best Practice sections of the original article. To view the complete Laryngoscope articles free of charge, visit Laryngoscope.
Background
Defining significant asymmetric sensorineural hearing loss (ASNHL) is important to determine if a patient requires further evaluation for retrocochlear pathology. Currently, gadolinium-enhanced magnetic resonance imaging (MRI) is the gold standard to identify pathology in the internal auditory canal (IAC) and cerebellopontine angle (CPA) responsible for ASNHL. The most common lesion in the IAC and CPA is a vestibular schwannoma with the sensitivity and specificity of MRI approaching 100% for these tumors. ASNHL is the most common presenting symptom associated with a vestibular schwannoma, but the degree of asymmetry varies greatly, and some patients may even have symmetric hearing. Thus, defining what degree of ASNHL places a patient at higher risk for vestibular schwannoma detection continues to be debated in the literature without consensus.
A broad definition of ASNHL will increase sensitivity and identify a greater number of tumors, but it will also generate a greater number of negative studies, increased healthcare costs, and greater patient anxiety. A narrow definition of ASNHL increases specificity but risks missing a diagnosis and a potential therapeutic window for hearing-preservation surgery, stereotactic radiation, or improved facial nerve outcomes. Thus, the definition of clinically significant ASNHL requires optimization of both sensitivity and specificity to maximize its benefit as a screening tool for retrocochlear pathology.
Best Practice
Asymmetric SNHL is a frequent audiometric finding, and deciding which definition of asymmetry is the most clinically meaningful requires careful consideration including a risk–benefit assessment of the testing burden for each individual patient. No single definition of ASNHL is 100% sensitive for identifying retrocochlear pathology. The literature supports the use of threshold screening for asymmetry defined as an interaural asymmetry of ≥20 dB HL at two contiguous frequencies or ≥15 dB HL at any two frequencies between 2,000 Hz and 8,000 Hz. There is less evidence to support the use of a single absolute difference in speech recognition alone for identifying what defines a significant interaural asymmetry. Rather than a single absolute difference, physicians should familiarize themselves with the variability of speech recognition scores according to the binomial distribution table outlined by Carney and Schlauch (Laryngoscope. 2019;129:1023–1024).