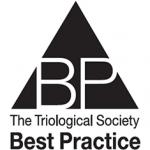 TRIO Best Practice articles are brief, structured reviews designed to provide the busy clinician with a handy outline and reference for day-to-day clinical decision making. The ENTtoday summaries below include the Background and Best Practice sections of the original article. To view the complete Laryngoscope articles free of charge, visit Laryngoscope.
Background
Benign thyroid nodules (BTNs) are common in the general population, with the majority remaining asymptomatic. However, certain BTNs cause significant patient concerns, including compression symptoms and cosmetic issues. Traditional treatment of symptomatic benign nodules has been surgical excision, which comes with relative perioperative complications and the slight risk of hypothyroidism. Radiofrequency ablation (RFA) for BTNs has recently gained traction among otolaryngologists for patients seeking a nonsurgical treatment option. Under local anesthesia and ultrasound guidance, RFA causes selective thyroid nodule tissue damage while avoiding critical structures including major vessels, recurrent laryngeal nerves, and the trachea. This selective tissue damage through RFA is used to shrink BTNs, alleviating symptoms and avoiding the need for surgical intervention.
Best Practice
RFA is a safe, efficacious, nonsurgical alternative that has a role in select patients experiencing symptoms from BTN, including compressive issues and cosmetic concerns. RFA offers a durable treatment response at five-year follow-up endpoints, and has been found to be most effective in smaller BTNs under 30 mL in volume. Severe complications from RFA have been reported; however, these are exceedingly rare, with the most common complications being pain, fever, and hematoma. Suggested indications and contraindications for RFA to help with patient selection can be found in Table 2. Further study of RFA treatment is necessary to delineate long-term outcomes. The recent ETA practice guidelines are an excellent resource for providers considering adopting RFA in their endocrine practice.
Table 2: Suggested Radiofrequency Ablation Candidacy.
| Indications | Contraindications |
| --- | --- |
| Solid, nonfunctioning nodule | Toxic multinodular goiter |
| Biopsy confirmed benign nodule | Bethesda III/IV |
| Symptomatic (compressive, cosmetic concerns) | Graves disease |
| Patient wants to avoid surgical scar | Unfavorable anatomy |
| Favorable anatomy | Pacemaker, ICD (relative) |
| ICD = internal cardiac defibrillator. | |