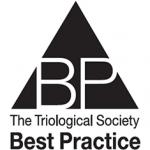 TRIO Best Practice articles are brief, structured reviews designed to provide the busy clinician with a handy outline and reference for day-to-day clinical decision making. The ENTtoday summaries below include the Background and Best Practice sections of the original article. To view the complete Laryngoscope articles free of charge, visit Laryngoscope.
Background
Transoral robotic surgery (TORS) has become increasingly accepted as a treatment modality in human papillomavirus (HPV)-positive T1/T2 oropharyngeal squamous cell carcinoma (OPSCC). Various studies have shown better oncologic and survival outcomes in HPV-positive OPSCC patients, compared to HPV-negative OPSCC. National Comprehensive Cancer Network (NCCN) guidelines recommend surgical excision or radiotherapy in T1/T2 OPSCC for both HPV positive as well as HPV negative tumors (Accessed July 24, 2020). Results have been comparable when HPV-positive OPSCC patients have been treated with TORS versus radiotherapy in early-stage disease. However, the role of TORS in HPV-negative OPSCC has not been well elucidated. Existing literature focuses on the surgical
outcomes of HPV-positive OPSCC especially with TORS; however, the results of surgical and oncologic outcomes in HPV-negative OPSCC patients have been largely limited to subset analysis of large OPSCC cohorts. There are no large-scale prospective trials, which have studied TORS in HPV-negative OPSCC. In fact, a Phase II randomized controlled trial (RTOG 1221, NCT01953952) was formulated to compare the survival outcomes in patients with T1/T2, N1-N2b HPV-negative OPSCC, but unfortunately this trial was closed due to poor accrual rate and a relative decline in HPV-negative OPSCC. This review summarizes the available literature and investigates the role of TORS in HPV-negative OPSCC.
Best Practice
The data on outcomes following TORS for HPV-negative OPSCC are limited. However, subset analysis from larger retrospective and database studies on early-stage HPV-positive OPSCC suggests acceptable survival and oncologic outcomes. Thus, based on the available data, upfront TORS in selected HPV-negative patients may be an option in the treatment algorithm with radiotherapy being reserved for tumors, which are not amenable to TORS, and in adjuvant settings. Further studies are required to determine optimum margins in TORS for such patients. Recognizing the technical difficulties of doing so, standard margins of 5 mm should be achieved until further data are available. The decision to offer TORS to HPV-negative patients should be made by factoring in multidisciplinary expertise, patient preference, and an awareness of the limitations of the current available evidence.