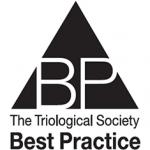 TRIO Best Practice articles are brief, structured reviews designed to provide the busy clinician with a handy outline and reference for day-to-day clinical decision making. The ENTtoday summary below includes the Background and Best Practice sections of the original article. To view the complete Laryngoscope article free of charge, visit Laryngoscope.
Background
Vocal fold leukoplakia (VFL) is a clinical diagnosis indicating the presence of white plaque lesions on the vocal fold epithelial surface. The management of VFL remains largely controversial because there is no universally accepted consensus on the threshold for surgical intervention, appropriate treatment strategy, frequency of surveillance, and ablative versus excisional management (i.e., biopsy versus laser treatments). Furthermore, VFL is associated with an approximate 6% to 7% risk of developing carcinoma; therefore, missing this diagnosis could have potentially devastating consequences.
Few studies have directly investigated the question of timing and necessity of surgical intervention. Herein, we review five recently published studies that sought to identify patient and laryngoscopic morphologic factors most predictive of severe dysplasia and/or carcinoma. Given the important prognostic and therapeutic implications of identifying those most at risk of severely dysplastic and/or carcinomatous lesions while minimizing unnecessary operative morbidity for benign lesions, when is surgical intervention indicated in VFL?
Best Practice
The management of vocal fold leukoplakia remains largely controversial because there is no universally accepted consensus on the timing and indications for surgical intervention. Rough, hyperemic, hypertrophic lesions with vascular stippling and limited or absent mobility seem to most strongly correlate with severe dysplasia and/or carcinoma; therefore, timely surgical biopsies should be considered more strongly in this group. On the contrary, flat and smooth lesions are generally benign and could be managed conservatively with serial observation, thus avoiding unnecessary operative morbidity. There also appears to be a promising role for narrow band imaging (NBI) endoscopy in identifying suspicious vascular patterns. Future large-scale prospective studies should be performed to further elucidate the laryngoscopic and NBI patterns most likely to predict malignancy.